Blended with a twist
Blended learning is happening with a new rule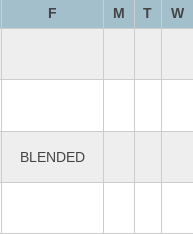 Blended learning is when students get to go anywhere around the school to do work. It has been going on for years, and this year is going to be different than before.
"I enjoy blended, it's kinda like a break for all of our classes," senior Alyssa Siebert said.
Teachers have blended days so students can be more independent. They send the student off anywhere in the building for them to work on their blended work assigned for that day.
"I usually hang out in the hub to get my work done," senior Malik Alansari said.
Some students may not be doing their work, and just talk to their peers instead. 
"I get my work done during the blended period," Siebert said, "Usually I have time to spare after."
When blending you have to have a 70% or higher grade to be blended. Some of the students like taking their time to be successful.
"I usually take my time to work on classwork," Alansari said, "I also have time to do whatever I want after."
However; some teachers may blend you if they can not find a sub, and make you do work blended. Some teachers have new rules. A new rule the teachers have to follow is they must have a reason to blend their students. Students may react differently to the rule than teachers think.
"The new rule for the teacher is a little too much, but whatever the teachers need to do," senior Abby Goraj said.
Teachers are planning on starting to blend their students in the next week or so. Students are looking forward to blended learning.
"I am excited for blending to start because I will have more freedom," Goraj said.
Students can do better in a blended class because they do not have to worry about staying in class every day
"I feel like I do better in a blended class," Siebert said.
Others may feel differently about that, and blended is not their cup of tea. Some like to stay in the traditional classes.
"I am more of a traditional type of person," senior Anna Stock said.