Sara Willis represents the freshmen on Math Team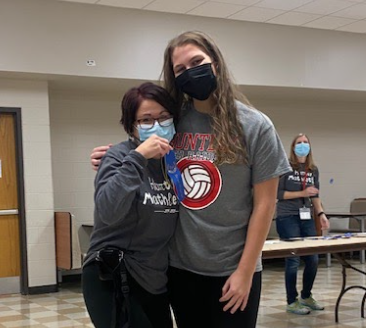 The bell rings on a Tuesday afternoon and students fill the halls as they make their way to the bus parking lot. While some students are eager to go home, others are eager to engage in a little extra challenge to end their school day. That is the case for the Math Team and their only freshman, Sara Willis.
At first, Willis did not know that a math team existed at Huntley High School until her math teacher told her about it, explaining that she would do well. Willis was hesitant at first, but she quickly gained confidence.
"I knew I was gonna be the only freshman and I didn't have any friends in it, so that kind of got me scared at first but, the only difference is the math that you do for the competitions," Willis said.
After placing third as an individual in her last competition, Willis is motivated to set new goals.
"When they were doing the awards, it got me really excited for next time to see if I could improve," Willis said.
Willis is not only motivating herself, but motivating others as well.
"She's a great friend [and] that's how she motivates me," Teammate Dylan Palczynski said. Willis adds that she enjoys the different personalities on the team and looks forward to going to competitions with them.
"[I'm most proud of] meeting the new people and making new friends," Willis said. Another thing Willis has to be proud of is her ability to stay involved and challenge herself.
"She manages volleyball, math team, school, [and] she takes really hard classes. She somehow manages it all and she's super committed," math coach Laura Jenkins said. With high school being a big transition for many freshmen, Willis saw the additional activity as a fun outlet, instead of an addition to her workload.
"It was a lot at first, but…it wasn't more stressful, it was like an escape" Willis said. She looks forward to competing in her next competition on Saturday, Dec. 4 at Grant High School.
Willis has created many memories with her team so far, and Jenkins hopes that more freshmen will join the team to be a part of them.
"Some kids have really found their home here. Other kids have connected with each other or brought friends and had so many memories together as we travel and compete. It's just a really fun experience" Jenkins said.