Please take your seat and welcome to American Airlines
PLTW Aerospace Engineering takes their learning to the skies at O'Hare Airport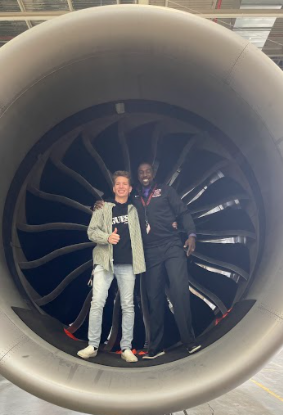 On Oct. 21, the Project Lead The Way Aerospace Engineering class collectively went on a field trip to Chicago O'Hare International Airport for American Airlines to view models of airplanes, engines, and more specifically a 787 airliner. 
This small group of students has been working on creating a smaller model of an airplane themselves. This field trip was an experience for them to grasp what they learn within that class into reality. This was not only an opportunity for the students to visually see what they learn in class, it was also an opportunity for the students to realize they have options for their future.
"Originally the field trip was going to be after the AP tests one or two years ago. Although I was free to chaperone, and then that got canceled because of COVID-19. I still wanted to go because it sounded awesome," Chemistry teacher Allison Tuleo said. 
According to Tuleo, she was very interested in Aerospace as it connected to the many different parts of science revolving around physics and electrical computer work. When volunteering as a chaperone, she found that there was more importance to the field trip than just looking at airplanes and how they operate. She took in a lot of information on how American Airlines make business and how there are so many different areas to work in. 
"You don't have to be into airplanes to work at American Airlines. It's a cool thing to think about what a big organization it is. They need people maintaining their planes, they need people flying their planes, they need flight attendants, they need customer service, they need HR, and they need ticketing. It's just such a huge organization," Tuleo said.
Tuleo saw this field trip as an opportunity for engineering students to find what they want to do with their careers in the future. She encourages students to use what the school has to offer to figure out a plan, whether that be college or going into trades. She saw it as an opportunity herself to see the work that people put into an organization, as well as the work of many students.
"A lot of the things that we talked about on the field trip we were doing in class. When making our own model airplane to adjust the control surfaces or gliders on the model, we would just do it with our hand and we'd be bending a piece of tape," senior Andrew Cantrell said. "Seeing it on an actual plane, you get to see all the mechanics and parts that actually move the parts and you're able to see how intricate it actually is to create and build."
According to Cantrell, the group of students was put into three to four groups with chaperones. He found that you did not need to be an expert or take a class on Aerospace to understand the tour. He appreciated that the tour guides seemed like they enjoyed working there and were invested in their jobs. 
"Honestly, the people that were there explaining it did so well. I really think that a majority of people could go on the field trip," Cantrell said. 
Overall, the Chicago O'Hare International Airport for American Airlines field trip was an eye-opener in many ways along with being educational and inspirational.