School is not always one size fits all
Claudia Zuniga transferring to online school has been one of the best decisions of her life.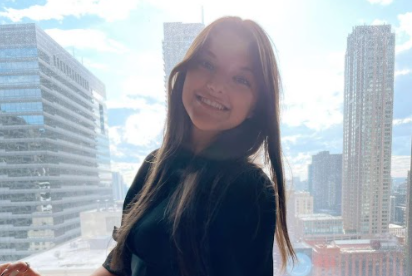 When you think of a teenager's life, school seems to be the main thing that their life revolves around. It is not just school, but it is more specifically about public school with all its stereotypes. Although the truth is, not everyone attends public school.
Claudia Zuniga, now a senior, spent her freshman and sophomore years at Huntley High School, thinking about dropping out. She has always wanted the homeschooling experience.
"My mental health was just really bad when I went there, so me and my mom thought it would be best to pull me out and try homeschooling," Zuniga said.
She has wanted to leave the stressors of a public environment, along with the stress put on students with the regular grading system.
"My mom was always the one [who supported her decision], even when I went to Huntley, she was like if you just say the word, I'll do it," Zuniga said.
Since her family was in support of the decision, she ran with it and never looked back.
Truthfully, public school can become all-consuming, especially for student-athletes and straight-A students. School itself is a huge portion of the day with school being a total of 7 hours long. For Zuniga, her schedule looks completely different.
"I wake up at 10[a.m.], make myself breakfast, and then I pull out my computer," Zuniga said. "I usually don't spend more than like 4 hours a day on school."
Some people want to pursue other things in life that do not necessarily have to do with regular school. Zuniga is still doing normal high school extracurriculars like attending dance classes and working at Dick's Sporting Goods, but she plans to start getting into acting.
She has done a few extra jobs for TV shows and movies here and there, but once she signs with an agency, she plans to do more commercial and print auditions. With the new availability in her calendar from being homeschooled, she has the flexibility to do other things.
Zuniga even picked up some new hobbies with her extra time.
"She really adopted a love for reading that she didn't really have before," Zuniga's mom, Justine Giacchetti said.
The truth is that public school can be geared towards a certain type of person. While Zuniga thrived in the homeschool environment, things are different when it comes to her brother, Nathan.
"I would personally never do online learning, I am too much of a social person," junior Nathan Zuniga said.
These decisions are big and have vastly different outcomes from person to person. Public school can be subjective and circumstances vary from person to person.
"School isn't one size fits all and she really struggled in that huge environment at high school, [but] she's really blossomed being able to do it on her own," Giacchetti said.