The battle between sickness and school
Addressing students' and teachers' concerns about being sent home for remote learning and the rise of COVID-19 cases.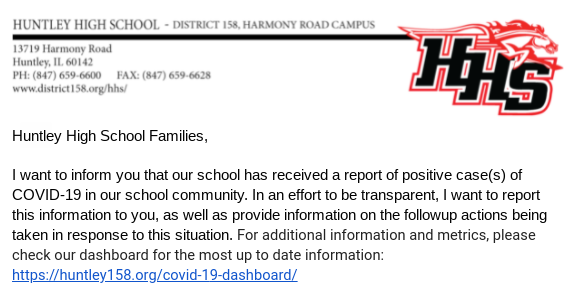 At 3:07 p.m., senior Riley Chadwick's phone rings with the sound of a notification. Questioning who could be trying to contact her, she taps her phone screen only to see a Gmail notification. Opening her phone to see if it was an email from her teachers, she sees the Positive Case Notification for the day and opens the email to see how many more students and staff have tested positive for COVID-19.
After the extreme surge of cases with students' return from winter break, the question on everyone's minds was simple: should we be sent back to remote learning?
During the increase in cases, the district stopped releasing the number of positive cases per day in their daily email and only made the number of positive cases, isolations, and students in quarantine per week available on their COVID-19 dashboard. The sudden change in transparency alarmed many, while the intentions were to limit the worries about the high number of cases.
This time caused stress for many students and staff because being in school made the risk of getting COVID-19 much higher. The transition coming back from winter break, filled with a rising number of positive cases and extreme teacher shortages, could have been handled better. Students could have been sent home to do remote learning for two weeks, giving all those who were sick a chance to recover and limiting the amount of contact between all students. This may have been able to reduce the rapid spread of COVID-19 and keep students as safe as possible.
However, since the surge of positive cases has begun to decline and students have returned from quarantine, concerns have died down and more are starting to feel comfortable about being in school. Students are glad that the district decided not to send them home to do remote learning because the majority prefer to do school in-person.
"I think that I learn better in-person, and even though remote [learning] may be easier, I think we should stay in school," sophomore Billy Pahl said.
Teachers would rather stay in-person as well. After all, they find it easier and more effective to teach students in a classroom because they are able to form more connections and relationships with their students.
"I think the interaction of a teacher with their classroom, and the students with their teacher, is so important. I think we should try to stay in school as much as possible," said social studies teacher, Renee Fowler. "But I will say that week or two weeks coming back after [winter]break was really difficult, but we made it through, so that's great."
The majority favor in-person learning and having a "normal" high school experience is something that many are trying to achieve during these times of uncertainty. 
"I don't think that we should go back to remote [learning]. Some teachers aren't even on Zoom, and honestly, I don't think many people would show up," Chadwick said.
That being said, if there were to be another major surge in cases, the district should consider sending students back to remote learning for a set period of time to try to keep everyone as safe as possible. 
With the major end of the school year events approaching, including Prom, graduation, and the spring sports seasons, letting all of the cases die down before these are impacted would help give a better ending to another abnormal school year.
In the meantime, keeping students in-person is what everyone wants and, hopefully, the question of going back to remote learning will stay in the past. So, in the battle between sickness and school, school has won by a landslide.