Huntley's revenge
Huntley baseball easily defeats Jacobs after a loss earlier in the week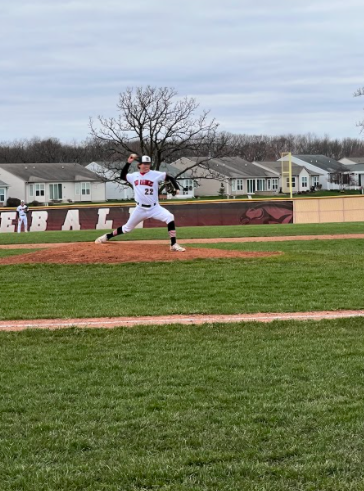 The Huntley Baseball team is in a great place. They are 15-2 in their season. The team faced one of Huntley's biggest rivals, Jacobs. 
Going into the game against the Eagles, the Raiders knew that their offense had to be on. A good portion of the team's hits came with two strikes. A great thing for the Raiders. 
The game started off slow, but the Raiders quickly took the lead. Junior Joey Garlin put pressure on the Eagles by getting a run in the first inning. Junior CJ Filipek played a great game for the Raiders. Filipek jump-started the Raiders' offense early on in the game. 
Junior Brayden Bakes, a Wichita State commit, hit a home run to left field. The team's momentum took off from there. With the strong winds blowing left at Monday's game, Bakes knew he had to go right. He did just that.
Senior Lucas Goldstein, a Rock Valley commit, surprised Jacobs by getting a bunt. This was something the Raiders had not used in a while. Coach Jakubowski was pleasantly surprised. 
Senior Adam Guazzo, a Valparaiso commit, has only one thing on his mind: help his team. Guazzo is confident on the mound. 
"[My mindset is] just I'm better than them and I'm going to get them out," Guazzo said. 
The Raiders are looking forward to continuing this momentum for the rest of the season. 
"We just have to pitch and play defense and get timely hitting. That is our mojo," Jakubowski said. 
Jakubowski was very happy with the way the team played in their second game against Jacobs.
"It was refreshing to come back and play like that in game two, especially with the outcome of game one," Jakubowski said.
The team defeated Jacobs 10-0. They are looking forward to the rest of their season and hoping to make a run in the playoffs.