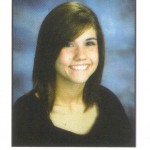 A Huntley High School graduate died Wednesday evening in rural McHenry County. Jennifer Kearns, Class of 2010, was a passenger in a 1995 Jeep Cherokee that rolled over in a ditch on Marengo Road shortly after 8:00p.m. according to a McHenry County Sheriff Press Release.
UPDATE 2/26: Services to be held Tuesday and Wednesday for Kearns
The Sheriff office said that there were four people in the vehicle, two of which were transported to area hospitals, the other refused medical treatment. No one in the vehicle was wearing their seatbelts, and the airbags failed to deploy.
Kearns was pronounced dead at the scene.
The driver of the vehicle, Zachary Richardson, 22, of Union was transported to Centegra Hospital-Woodstock and is currently in stable condition.
John Sheehan, 23, of Huntley was transported to Sherman Hospital in Elgin and was released from the hospital.
Steven D. Manninen, 21, of Union refused medical treatment and was released at the scene.
According to the sheriff's office, the McHenry County Sheriff's Office Traffic Crash Investigations Unit and the McHenry County Coroner's Office are investigating the accident.

Location of accident according to McHenry County Sheriff.
View Larger Map