Binging with a new ball
Owners Justin Jacobsen, Connor Ardell, and Alex Napientek, are excited to announce their newest invention, the BingBall.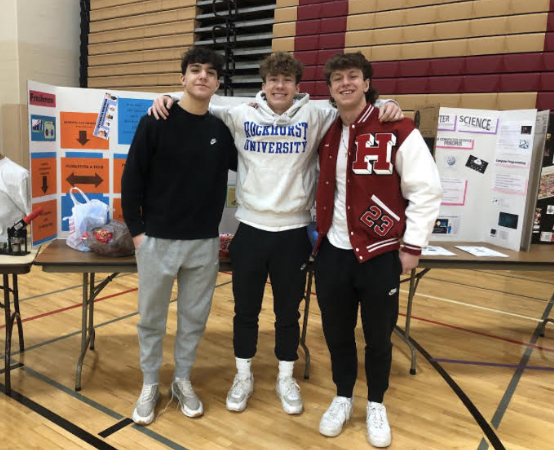 The proud owners of the BingBall, seniors Justin Jacobsen and Connor Ardell, and junior Alex Napientek, have grown their business tremendously since August of 2022. Although their business is just kicking off now, it was a long road to get there. 
At first, the three business owners struggled to come up with an efficient and well-working product. By the end of the first week of school, they were set on what they wanted to create. 
"[The product] originated from GPS balls, like TopGolf, where you can track the velocity of your ball," Ardell said. "We noticed there was a big issue with golfers losing their balls, so we wanted to incorporate a tracking system into [the ball]." 
BingBall is a trackable golf ball that can be located by remote connection. After clicking the remote, the ball will alert a sound that golfers can listen for.
"The goal is to provide optimum convenience for all golfers," Jacobsen said. "We also want to encourage new golfers and not destroy their spirits." 
Jacobsen, Ardell, and Napientek all have experience with golfing. They know how hard it is to lose a ball and not be able to find it. With their strong passion for golfing, they wanted to help out others just like them. 
Now that they had constructed a strong, effective idea, they needed support from bigger business owners and financial advisors.
"We have our own mentor who we keep in contact with once or twice a month," Jacobsen said.
"Before we do presentations, we speak with them and they go over everything we need to improve on or add," Ardell said. 
With help from advisors and teacher Jack Towne, the creators have been able to begin the process of building the golf ball. 
"We are in the process of starting a prototype for the ball," Napientek said. "Since it is still in the making, we have a lot to figure out."
From cutting open golf balls to trying other difficult ways to get the speaker inside the ball, they settled on starting to insert the speakers into foam balls. The foam balls have made it easier to accurately put the speaker into a mock ball and make sure it works correctly.
With how much progress they have been making with BingBall, the creators are beginning to advertise their idea to the public and gain positive opinions. 
"We have multiple social media platforms: Instagram, Facebook, TikTok, and YouTube," Ardell said. "We have business cards on the way, have started a website, and are creating black polos with our logo on them- along with other merch." 
Students may have seen the boys advertising their idea during sixth-period lunch or at the incoming freshman class assembly.  
"We have had a lot of positive feedback," Napientek said. "We could have many potential buyers." 
Along with the kick-off of a successful business, Jacobsen, Ardell, and Napientek have all learned lifelong skills in regard to the business world. 
"We really wanted the experience of first-hand handling a business," Jacobsen said. "This sets you up so much for the real world, [since] business is something I want to do when I go to college."
The boys are hoping for a positive future for BingBall. They are excited for their product to finish coming together and start to sell.