Charlie XCX album review: Sucker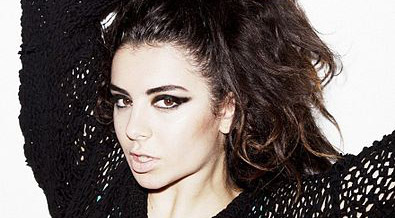 Maybe it's her wavy black hair, the signature red lipstick, or edgy fashion sense that makes her stand out from typical American artists. However, that doesn't make Charli XCX any different than other UK singers such as Lorde or Cher Lloyd.
Charlotte Emma Aitchison, a 22-year-old artist from Cambridge, released her second album "Sucker" on Dec. 15, and it could not be more unoriginal and annoying.
Out of the 13 tracks on her CD, only half of them were bearable.
Let's start with the famous (and overplayed), "Boom Clap." We all know that if it wasn't featured in the film "The Fault in Our Stars," nobody would give it the time of day. Catchy, yes, but easily got annoying after a month of being played on every radio station across America.
The first five songs seem to have the same effect. "Break the Rules" and "Breaking Up," being the second and third most popular on iTunes respectively, happened to be the worst tracks on the album. Both were equally annoying, and unrelatable.
We get it. You're new to the Hollywood industry, but trying to have the "sassy, bad-girl" image isn't working too well for you. The music videos for the two songs were tacky, and made her look like another Avril Lavigne; immature and dirty. Just because she's featured in Iggy Azalea's single "Fancy" doesn't mean she can pull off the same attitude as her.
Her music videos also tend to lack creativity or any special effects. It is the twenty-first century, and technology is booming. If you have the honor of being featured in a Hollywood film, step up your game and make your work interesting to look at; not something that came straight out of the 90's.
Her track "London Queen" tells the story of her success in America: "Never thought I'd be livin' in the USA/Living the dream like a London Queen." Cute lyrics, but the song is too straightforward and quite boring. She is (again) lacking the creativity necessary to be successful in Hollywood.
Okay, maybe her songs aren't all bad.
Once I got past those first few songs, the rest of the album was pretty good. Her first album "True Romance", which was released last year, had the same pattern. The first half made my ears bleed, and the rest of the songs are something I would listen to on my way to school.
Some of the songs such as "Hanging Around" and "Famous," had a catchy tune that (surprisingly) did not get annoying.
When I heard Charli XCX was coming out with another album, I was excited to see what she had in store for her fans. However, I was mostly disappointed with her work on this CD, and it did not live up to my expectations.
Maybe instead of focusing on her wavy black hair, the signature red lipstick, or edgy fashion sense that creates her image, she should focus on what matters more: the music.
Hang on for a minute...we're trying to find some more stories you might like.