NBA Top Ten Feb. 20 – Feb. 26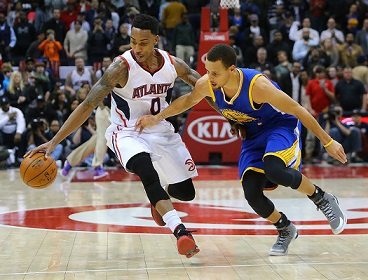 Game 1: Toronto Raptors @ Atlanta Hawks Friday Feb. 20 6:30 PM CST
Pick: Atlanta Hawks
Why: The Hawks are arguably the best team in the NBA. Their depth is outstanding and they sent four players to the All-Star game. Toronto has been playing subpar defense lately and they lack the post presence to match with Atlanta's duo of Paul Millsap and Al Horford. Kyle Lowry and Demar DeRozan provide Toronto with a great backcourt, but Jeff Teague and Kyle Korver are just as capable. Expect Atlanta's explosive offense and superior depth to lead them to victory.
Game 2: Cleveland Cavaliers @ Washington Wizards Friday Feb. 20 7 PM CST
Pick: Cleveland Cavaliers
Why: Cleveland has been on fire since trading for Iman Shumpert, JR Smith, and Timofey Mozgov. Kyrie Irving and LeBron James have hit their stride and the All-Star break allowed them to recuperate. Although Washington is a great team, Cleveland's offense can overcome their stingy defense. Neither team has a great bench, but Kevin Love and Smith provide Cleveland with explosive outside scoring.
Game 3: San Antonio Spurs @ Golden State Warriors Friday Feb. 20 9:30 PM CST
Pick: Golden State Warriors
Why: Steph Curry and Klay Thompson are arguably the best backcourt in the NBA, and Curry is a legitimate MVP candidate. San Antonio has been riddled by injuries this year and they don't have the perimeter stoppers to contain Curry and Thompson even when they are at full health. Draymond Green's length and athleticism poses a problem for the San Antonio bigs down low. Golden State is shockingly deep and their defense is the best in the league. The Warriors should win easily.
Game 4: Phoenix Suns @ Chicago Bulls Saturday Feb. 21 7 PM CST
Pick: Chicago Bulls
Why: Chicago may be inconsistent but they are still one of the best teams in the league. Phoenix relies on their three point guards, Goran Dragic, Isaiah Thomas, and Eric Bledsoe for the majority of their offense. This plays directly into Chicago's strength, as they can use Jimmy Butler and Tony Snell to lockdown the perimeter. Dragic is reportedly upset with the Suns' management, and its possible he may no longer be on the team by gametime. Chicago has strong bench scoring in Aaron Brooks, Taj Gibson, and Nikola Mirotic. Expect this game to get out of hand quickly.
Game 5: Memphis Grizzlies @ Portland Trail Blazers Sunday Feb. 22 8 PM CST
Pick: Memphis Grizzlies
Why: Although Portland is a good team, Memphis is elite. Memphis' defense is stingy, and their big man duo of Zach Randolph and Marc Gasol can shut down anyone who Portland puts on the court. Tony Allen is one of the best perimeter defenders in the league, and he can shut down either Damian Lillard or Wesley Matthews. Mike Conley leads a Memphis offense that is much better than previous seasons and Portland's lack of frontcourt depth will hurt them against the Grizzlies' post-oriented offense.
Game 6: Memphis Grizzlies @ Los Angeles Clippers Monday Feb. 23 9:30 PM CST
Pick: Los Angeles Clippers
Why: A majority of the Grizzlies offense comes from Mike Conley, Zach Randolph, and Marc Gasol. The Clippers are built in such a way that their best defenders match up well with the Grizzlies best scorers. DeAndre Jordan and Blake Griffin should be able to slow down the Grizzlies big men, while Chris Paul should be able to shut down Conley on the perimeter. The Clippers also have significant 3-point threats on the outside in Matt Barnes and J.J. Redick that should tilt this contest in their favor.
Game 7: Golden State Warriors @ Washington Wizards Tuesday Feb. 24 6 PM CST
Pick: Golden State Warriors
Why: The Golden State Warriors are arguably the best team in the NBA after the All-Star Break, averaging 110.9 points per game. They have two elite scoring threats in Stephen Curry and Klay Thompson as well as solid big men and a competitive bench. The Warriors also play a good defensive game ranked fifteenth in the NBA. While the Wizards are a good basketball team, they don't have the depth, in their starting lineup or on their bench, to hang with the Warriors for a full 48 minutes.
Game 8: Toronto Raptors @ Dallas Mavericks Tuesday Feb. 24 7:30 PM CST
Pick: Dallas Mavericks
Why: The Mavericks addition of Amare Stoudemire is a great move for the team as they add yet another bona fide big man to their line. Put next to former New York Knicks teammate Tyson Chandler, Stoudemire should fit right into the scheme and bolster the Mavericks as they make a push for the playoffs. Against the Raptors, The Mavericks matchup well offensively and have better interior defenders. The one criticism of the Mavericks is their lack of bench depth, but Stoudemire's addition should help that.
Game 9: San Antonio Spurs @ Portland Trail Blazers Wednesday Feb. 25 9:30 PM CST
Pick: Portland Trail Blazers
Why: The Trail Blazers have been a great team this year on both offense and defense. Their one criticism has been their lack of scoring off of the bench. At the trade deadline, Portland made a move for Denver SG Arron Afflalo, giving them a terrific guard option off of the bench. The move also looks to keep Lamarcus Aldridge in Portland next year as his contract expires.
Game 10: Golden State Warriors @ Cleveland Cavaliers Thursday Feb. 26 7 PM CST
Pick: Cleveland Cavaliers
Why: Cleveland has made several moves leading up to the trade deadline to bolster their team. Adding names like Timofey Mozgov from the Nuggets, and J.R. Smith and Iman Shumpert from the Knicks, the Cavaliers get a face-up big that can shoot and defend the rim, a capable scorer in Smith, and an elite perimeter defender that can play multiple positions in Shumpert. Along with LeBron James, Kevin Love, Kyrie Irving, and the Cavelier's young and capable bench, this Cleveland team is looking to make a splash in the playoffs.