Jay Cutler is not going anywhere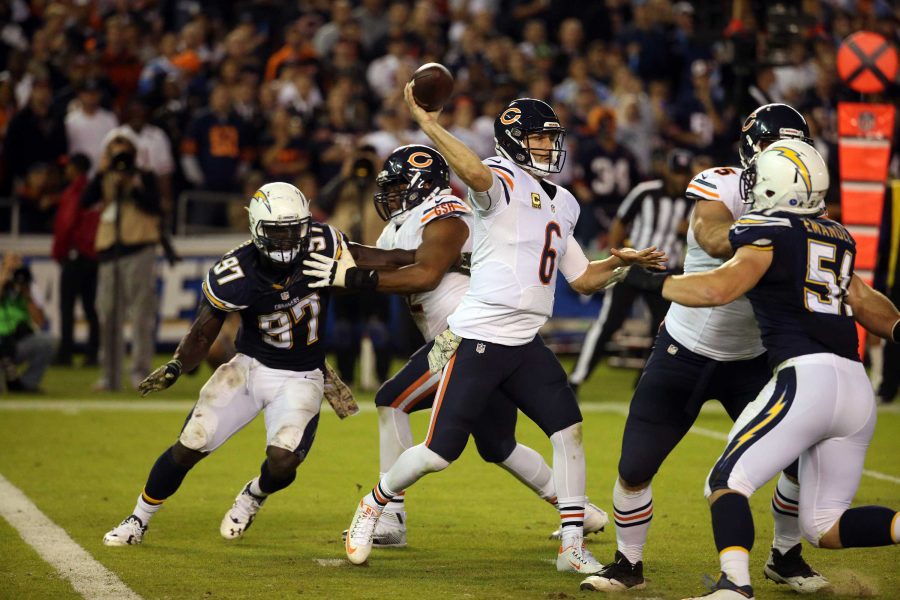 Whether you like it or not Bears fans, Jay Cutler is your franchise quarterback.
For years Bears fans have bemoaned Jay Cutler for his inconsistency, attitude, and tendency to throw interceptions. It seems every year Cutler gets a new offensive coordinator and there are columns written about how THIS is the year Cutler takes the leap.
Well I'm here to tell you that again, but with a catch: He isn't taking the leap. In Adam Gase's offense, Cutler's ability to make decisions and audible has been decreased significantly. In most situations, this would be a bad sign, but here it's a positive. Throughout his career with the Bears, Cutler's main vice has been his decision making. In Gase's new system, Cutler can focus his energy on executing, instead of making a ton of reads and audibles.
The eye test would tell you that this is the best season of Cutler's career and the stats back that up. His Quarterback Rating for the season is currently 95.3, by far the highest in his career and 12th among NFL quarterbacks in 2015. Cutler's tendency to throw interceptions is often criticized but this year his interception percentage is 1.8 percent, 7th among starting quarterbacks this season and by far the best percentage of his career.
Gase sticking to Cutler's strengths has caused the best season of Cutler's career. Everyone thought this season should have been a transition season for the Bears. They were supposed to be one of the worst teams in the league and were written off after an 0-3 start. Since then they have gone 4-2, the two losses coming in games they easily could have one. The Bears, after their win against the Rams, are legitimately in the playoff picture, and that has a lot to do with Cutler's career year.
If the Bears continue to build their defense and the rest of their team through the draft, they can compete for championships with Cutler as quarterback. Teams have won Super Bowls with much worse players under center;Cutler has long been billed as a player with the talent and Adam Gase is finally getting it out of him. The Bears no longer expect Cutler to be their Tom Brady, they just need him to be their Joe Flacco.
Even if you still don't trust Jay Cutler as your starting QB for the future, the Bears don't have any other better options. The quarterbacks in the 2016 draft class are nothing special, cutting Jay Cutler and taking a gamble on one of them is illogical. Instead of doing that, the Bears could just draft to fill a more pressing need and keep a serviceable quarterback in Jay Cutler. If the draft is not a good option, free agency seems to be the next logical solution. The problem is, franchise quarterbacks are seldom found in free agency, and 2016 will prove no different.
Before the season, it seemed inevitable that this was Cutler's last year in the Windy City. But his career best performance this season as well as a better temperament, has extended Cutler's career in Chicago at least for the foreseeable future. The new coaching staff's effect on Cutler and the rest of the team should have Bears fans feeling a surprising amount of optimism about the future.