Kendrick Lamar continues to make history with the release of "Black Panther: The Album"
The last decade has seen a number of powerful and thought provoking artists break onto the scene. Widely considered to be the king of that list is Kendrick Lamar. Time and time again he raises the bar, and does that once again with the creation of Black Panther's soundtrack.
It has been just seven short years since he released his debut album, "Section.80." Since then he has seen a meteoric rise to fame. Kendrick has now been nominated for a staggering 187 awards, winning 84 of them, 12 of which being Grammys. Kendrick's ability to sing is equally matched by his ability to produce and compose music. He was honored with eight awards from the American Society of Composers, Authors, and Publishers for various tracks between 2013 and 2016.
"Black Panther: The Album" was the latest addition to his discography, which was released on Feb. 29. Kendrick's role in the creation of this album was massive. Not only did he sing in many of the songs, but he was also tasked with composing and producing it as well. This also marks the first time Kendrick has created a movie soundtrack.
The first song on the album, "Black Panther" switches between a beautiful piano melody and a harsh barrage of tribal drums. This is followed by "All The Stars" which has a simple, yet beautiful, instrumental that allows SZA to show off her vocal range.
The album boasts a star-studded lineup. Aside from SZA, Kendrick is joined by Khalid, Future, The Weeknd, Travis Scott, and Zacari, among others.
Khalid leads "The Way" with the help of Swae Lee on a track about their desire for a powerful woman. In the ballad, both Khalid and Swae sing from the perspective of T'Challa who still has feelings for his ex-girlfriend and Wakandan spy, Nakia. The song would fit perfectly on Khalid's debut album, "American Teen." The love song is sung over a slow and laid back instrumental is quintessential Khalid.
The latter half of the album picks up speed with the intoxicating pace of, "King's Dead." Jay Rock is credited as the main artist in the track, making it his first single since 2015. In it, he links up with Kendrick Lamar, Future, and James Blake, with the song acting as a tribute to King T'Challa after his supposed death. At various points throughout the song Kendrick makes references to T'Challa's killer, and at points raps from his point of view.
Kendrick Lamar is credited as the main artists in, "Big Shot," accompanied by one of hip-hop's most ambitious innovators, Travis Scott. It opens with a verse that is familiar to any fan of Kendrick. The verse is originally from his feature in Rich The Kid's, "New Freezer," and is more than welcome to make a second appearance. The song is all about the life of the rich and famous in Wakanda, and to an extent in real life too.
The album closes out with The Weeknd's, "Pray For Me." Joining him, of course, is Kendrick Lamar, a match made in heaven. The Weeknd's stunning vocals and chorus are supplemented masterfully by Kendrick's undeniably unique voice. All of this over a seemingly simple, yet complex instrumental. This fuses perfectly with the song's message of loyalty, sacrifice, and redemption.
Unsurprisingly, Kendrick Lamar, with the help of numerous extremely talented artists, has once again put out a masterpiece. There is no doubt that this soundtrack will be nominated for and win a number of awards by the end of the year. Kendrick's discography remains pristine and expansive after this very welcome addition. With decades ahead for the 30-year-old, the world is watching and waiting with excitement, eager to see what he is going to drop next.
Hang on for a minute...we're trying to find some more stories you might like.
About the staffer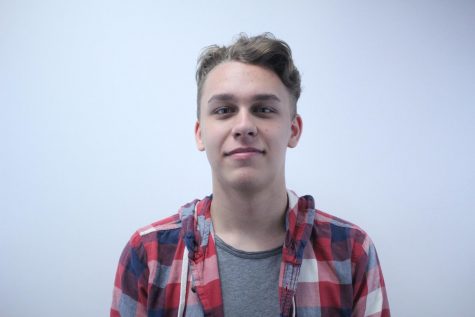 Austin Stadie, business manager
Austin Stadie is a second year staff writer and the business manager of The Voice. His interests include politics, sports, and music, all of which he writes about frequently.