The Christmas spirit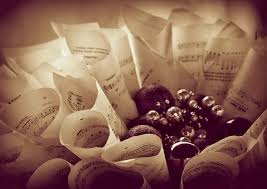 Rain falls and slowly freezes, layering the greens of the Earth with a soft white blanket that the holiday lights twinkle from. The faint scent of cinnamon wafting through the open streets of cities and towns, luring tourists from all corners of the world. 
Festive music rings through the neighboring houses, leaking out the windows and onto the streets. The festivities have begun and people begin roaming the busy streets to pick out presents for their loved ones. As days pass by, more and more people line up to complete Christmas wish-lists. As people cook, drive, and roam around stores there is always something they could never go without: the music. 
Christmas music has always been the festive tradition, whether people believe in traditions or not. A select group of people enjoy listening to Christmas music even before the holiday month, oftentimes in October and November. Of course, it brings a lot of debate whether it is an appropriate time or whether the music should wait. 
Specific songs during the time have been played on repeat for many years. These songs include; "All I want for Christmas is You" by Mariah Carey, "Last Christmas" by Wham!, "Jingle Bell Rock" by Bobby Helms, and many more. These specific songs have been out since the late 1900s, and have coursed through radios year by year. Mariah Carey's release was a breakthrough, hitting 841,234,159 views on Spotify and 677 Million views on YouTube. Wham!'s Christmas release hit 625,615,758 views on Spotify with 576 Million views on YouTube. For being such old Christmas songs, they have been listened to almost every Christmas and played on repeat by several listeners. 
As old Christmas songs continue to play, they inspire other artists to create their own version of a Christmas tradition. Ariana Grande released "Santa Tell Me" in 2014 and reached 221 Million views on YouTube, along with 469,838,864 views on Spotify, and is second in her list of "most popular songs". 
Another artist that gained inspiration, along with popularity, is Michael Bublė. The artist released "It's Beginning to Look Like Christmas" in the year of 2011, gaining 440,271,257 views on Spotify, and 73 Million views on YouTube. 
With each year comes new artists to introduce themselves with Christmas Music. With Christmas being such a popular holiday, many artists introduce either a new single or sing a cover of an already popular song. As years pass, more and more hit singles will be released and enjoyed by the millions of people in the world that have to offer.