Headspace: guide to meditation
January is a time for big changes. Specifically, New Year's Resolutions. Many people have committed to a healthier diet or to get better grades in school. While striving for better physical health is great, it is important that we also work to improve our mental and emotional health. 
On Jan. 1, Netflix released "Headspace: Guide to Meditation." This short series is available only on Netflix, or the original app also called Headspace. Having used both the app and seeing the Netflix series, streaming it on Netflix is better. Although the app offers more content, there is a monthly subscription that is not worth it. 
Meditation is elevated from the typical 'sitting criss-cross while breathing deep' meditations in the "Headspace" series. Using ancient techniques from across the world, "Headspace" teaches watchers many types of meditation for different situations; how to calm down when dealing with anger, how to let go of anxiety, and many more. 
Andy Puddicombe is the founder and narrator of "Headspace." After years as a Buddist monk, he now expertly guides watchers through the art of meditation and mindfulness. 
There are plenty of rewarding benefits for those who meditate. Scientists have proven that meditation reduces stress, depression, and pain. Physical benefits include lowered blood pressure and increased neuroplasticity. Other studies show it can increase your focus, gratitude, and "zest for life." 
"Headspace" not only teaches listeners about the reasons to meditate or how to manage meditating at different paces. Each episode is ended with a 5 minute guided meditation. They all seemed to be very effective. The results of each meditation seemed to leave the mind with a new sense of clarity and relaxation. 
For anyone that is struggling with anxious thoughts or mental fatigue, watching this new series and taking some time to explore the art of meditation can bring peace of the mind. As Puddicombe would say, "when is the last time you did nothing?"
About the staffer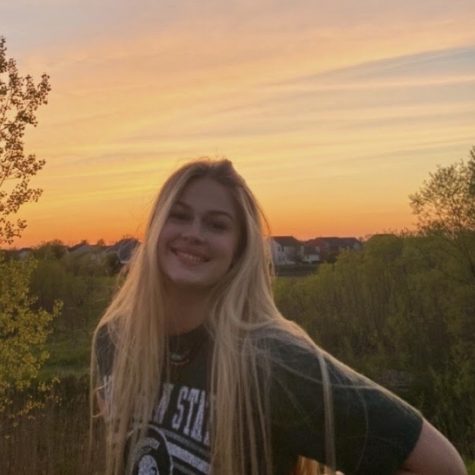 Ally Panzloff, Floating Editor
Ally Panzloff is a floating editor and it's her first year on The Voice staff. She has 2 dogs named Minnie and Bear. In her free time, she likes to play volleyball, watch Criminal Minds, and loves to go to Potbellies for grilled cheeses.