Mr. HHS pageant crowns the 2021 victor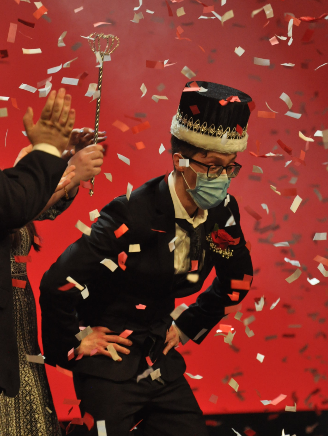 Senior Hayden Brown strutted confidently across the stage of the Performing Arts Center, the spotlight following him as he struck poses in a beachwear-themed outfit and spun the giant trivia wheel. Once the arrow pointed to the food category, host Emily Pinter proceeded to ask him a question about SPAM as he began the first contest.
On March 25, Student Council held the 12th annual Mr. HHS pageant at the high school with distancing protocols and limited in-person attendance. The event was live-streamed on YouTube at 6:30 p.m. for the student body to watch and vote for the People's Choice winner.
"It's nice that we get this because we didn't have a [normal] senior year, so I'm happy that I get to have some kind of event," Mr. HHS committee chairperson Veronica Kucharczk said.
The event began with a slideshow of photos of the contestants from their toddler to high school years. Between Halloween and family photos, the five contestants were announced: junior Jon Garcia and seniors Zach Szeszol, Logan Blake, Mario Magnelli, and Brown. Next came the judges' introductions with Principal Marcus Belin joining Shelly Kish, Tom Kempf, Amanda Robles, Laura Devlin, Danyce Letkewicz, Allison Tuleo, and Maggie Fulling in choosing this year's overall winner.
"It's just a fun event to showcase the guys of Huntley High School and usually the guys that participate want to show that they're very versatile in their lives," Student Council coordinator Rebecca Davison said.
After the swimwear and trivia event, during which Blake made a notable entrance with floatees while Magnelli strolled along to "Milkshake" by Kelis, the contestants moved on to spiritwear. In this round, they explained why they believed they should be crowned Mr. HHS.
"I believe that somebody that is inspiring, somebody that is outgoing, and somebody that can really show anybody that it is possible to… do anything that you want to achieve [should be Mr. HHS]," Blake said. "I feel that I am somebody that can be enthusiastic enough and inspire others."
Szeszol also wanted to inspire and encourage others as he advocated for greater representation and involvement of students who identify as LGBTQ+. During the talent competition, Szeszol delivered a speech on being yourself that also paid tribute to his brother, Josh, who passed away two years ago.
The talent competition saw a wide range of entertainment. Garcia performed the opera piece "Vesti la giubba" while in a clown costume. Brown and Blake opted for skits with Brown showing the audience how to make a pizza (using Lunchables) and Blake demonstrating his sword-fighting skills against friends in order to learn the meaning of the "Raider Way." Magnelli concluded the round wearing a gorilla suit with an energetic performance of Katy Perry's "Firework."
Formal wear was the final contest of the night as the students dressed up and walked out individually, a change from previous years when an escort of choice would accompany them. The students then pulled a question from the hat and gave a minute-long response. Magnelli was challenged with discussing an important environmental issue and focused on melting polar ice caps, while Garcia urged students to apply for Mr. HHS next year.
"If you've got the Huntley High School spirit, you can be up here," Garcia said. "Yeah, it's scary, but a lot of things in life are scary. If you spend your whole life being scared, you won't get anything done."
Once the online votes were counted, trivia and opinion points tallied, and judge decisions confirmed, the results were revealed. Magnelli was awarded a $25 gift card to Morkes Chocolates as the People's Choice winner, $75 to Top Golf as the first runner-up, and the title of Question Master. Szeszol was named Most Spirited, and Blake received Most Talented.
As the audience led a drumroll, Pinter announced the 2021 Mr. HHS overall winner: Hayden Brown. Confetti burst from the sides of the stage and music blasted as Kucharczk crowned him the winner of the pageant and receiver of gift cards for $100 at BBQ King, $75 at Top Golf, $50 at Bowlero, and $25 at Manny's Handcrafted Gelato and Cafe.
"My first reaction was kind of like 'what?' mentally. Then it hit me that I won. I was super thankful [and] pretty shocked the rest of the night," Brown said. "It was so much fun, especially since the people who I competed against were a lot of fun to be with and made the whole experience so much more fun."
About the staffer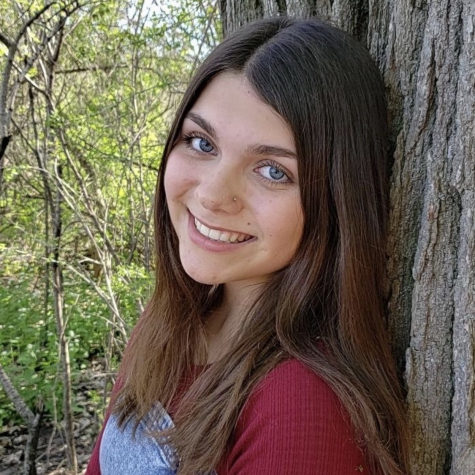 Ellie Armstrong, Editor in Chief
Ellie Armstrong is the co-Editor-in-Chief of The Voice in her second year on staff. She runs her own baking business called Ellie Rose Desserts. In her free time, Ellie likes to hike, obsess over Broadway musicals, and watch Marvel and Disney movies.