"Sons of Sam: Descent into Darkness" goes up in smoke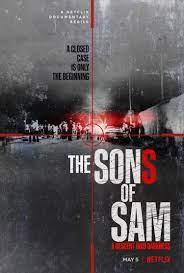 Another month, another true crime docu-series from Netflix. On May 5, Netflix released "The Sons of Sam: Descent into Darkness," a four-part investigative series about the Son of Sam case and its possible occult connections. 
In 1977, New York City was plagued by a serial killer nicknamed the "Son of Sam." After 13 people were shot, with six killed and seven wounded, the city was in chaos. That is, until Aug. 10, 1977, when David Berkowitz was arrested. Soon after, he was found guilty and sentenced to six consecutive life sentences at the Shawangunk Correctional Facility. 
The whole case of the Son of Sam is quickly told within the first 30 minutes of the show, leaving viewers to wonder what the next three and a half hours will be spent on. 
Maury Terry is an investigative journalist who died in 2015. With his notes narrated by Paul Giamatti, the show follows Terry's many theories on the truth behind the Son of Sam killings, ranging from a serial-killing partnership to a connection to the Manson family in California, to a satanic cult cover-up. 
While the show presents a lot of shocking evidence, none of it seems compelling enough to mean anything, let alone make a docu-series out of it. While the case was briefly reopened in 1996, it was once again closed and police have never had a reason to reopen the case. 
The show also struggles to find a purpose. You might find yourself confused while you bounce between the theories, accusations of police incompetence, satanic activity, and personal narratives about Terry's descent into obsession over this case. I would have enjoyed this story much more had it been a two-hour documentary about one theory or just about Terry. Instead, it seems to be several stand-alone documentaries swirled into five hours of content. 
Personally, I think Netflix is running out of steam in the true crime genre. The first Netflix produced true crime docu-series, "Making a Murderer" (2015), was a massive hit. Since then, they have been releasing true crime shows by the dozen, with over 25 new shows and documentaries in the past three years. Knowing this, I think this show was more a cash-grab, shock-value reach for Netflix rather than a real investigative series. 
Would I recommend it? Not unless you have time to kill and you are fascinated with far-reaching conspiracy theories. For true crime fans or even casual Netflix watchers, it had very little worth watching material.