Missing: HHS school lunch trays
Missing lunch trays cause confusion among students, proposing yet another recent concern at Huntley.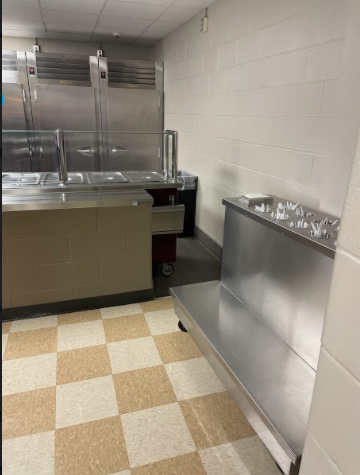 In the cafeteria, students cannot help but realize that something is missing. Instead of students walking to their table carrying trays of food, they are juggling it in their hands.
So, where did the trays go?
"Before we shut down for COVID, we had a lot of trays, but as the year went on, the trays disappeared. This year, we couldn't get trays in. All we could get were the paper trays. Now, because of all the shortages, we can't get the paper trays," said Julie Kearns, cook and team leader. "We will start with over 1,000 of them and then maybe have 100-200 by the end of the year." 
The missing lunch trays have caused a slight inconvenience to students who now have to carry their lunch items across the cafeteria. However, the inconvenience is only minor, and many students only see it as a small issue.
"It is more of a minor inconvenience because you can't really carry as much, but it makes it more difficult especially if you are purchasing extra food rather than just getting the main lunch," sophomore Lizzy Williams said. "It has made it a little bit harder, but I definitely think the lack of trays is not the biggest problem the school has to focus on right now." 
However, this minor issue has not impacted all students. Students who usually do not purchase lunch from the school are unaffected.
"I don't buy lunch that much so it hasn't really affected me," Junior Maddie Moran said.
Kearns said that they would love to have the trays back, but the shortage is their biggest issue. The supply chain shortages have caused many basic materials to become sparse ranging from lunch trays to electronics.
"We're not the only ones. All the schools are struggling with that." Kearns said.