Teamwork makes the dream work
The girls varsity basketball team has a triumphant senior night and wins the Fox Valley Conference championship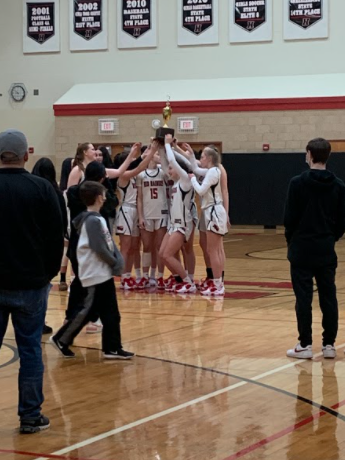 The central gym echoes delightful sounds of cheers and stomping feet in support of the girl varsity basketball team. Belin stands spectating in the corner with Raider Nation, who is decked out in sports jerseys. Sweat drips down the girls' faces as they effortlessly but aggressively crush Dundee Crown 56-26.
All though there was quite an advantage for the girls considering their height averaged 5 inches taller than Dundee Crown's girls, they still faced adversity. The other girls played aggressively with countless fouls and penalties. There were two cases where one of our girls got thrown onto the floor. Despite this aggression, they could not match our skill level and athleticism and could not keep up.
It was senior night and parents came and supported their girls with red and white flowers. The three seniors of the night were Nicole Flaherty, Jori Heard, and Ally Braaten. Flaherty suffered an injury this season and has been out but was able to score the first few seconds of the game since it was her senior night. Despite hardships, the girls won the Fox Valley Conference championship outright triumphantly.
"We went through some adversity in December and January where we had some players who had injuries. Then we had a COVID pause for a couple of weeks, but they showed a lot of resiliency, came back, and won 12 out of our last 14 games," Coach Raethz said.
The girls' teamwork is impeccable with fluid passes and plays. It would look as though they have been playing together for years.
"As a team, we have such a high dedication level, we go into practice, and we work until we get it. We have that mentality of wanting to be the best, and we work really well together. Altogether, we have learned to trust each other. I think it is a big thing that we've made a huge improvement on," Jessie Ozzauto said.
There is one more regular-season game then the girls are off to regionals and sectionals where they hopefully can bring home victories.
"They've really put in the work, be coachable, and willing to do the things that we asked of them," Coach Henricksen said. "It's been an awesome year to see them grow and improve throughout the season."