Christmas in the square
Huntley celebrates their 14th annual Christmas festival in the Huntley's town square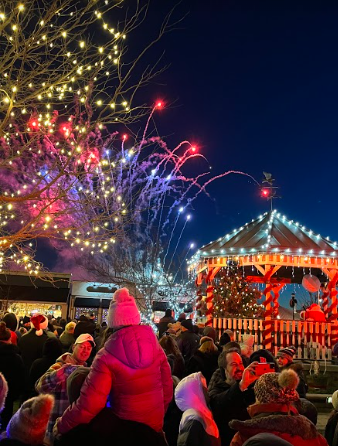 Sirens wail down Main Street with red and green lights as Santa Claus takes a new mode of transportation, a fire truck. Children sit on the top of their parents' shoulders hoping to catch a peek of Santa.
As Santa makes his way to the Huntley Gazebo, a line of a hundred people already awaits him. 
THREE, TWO, ONE, the community screams, and all at once, the trees are lit with their yellow shimmering lights that twinkle in the moonlight. Fireworks of red and green fill the sky in celebration of the 14th annual "Christmas in the Square." 
"As cold as it is, it is remarkable so many people show up with their families to kick off our season," said Huntley special events manager and assistant manager Bard Read. 
The event has things to do all day with the morning being kicked off with a half-mile walk for kids, a 5k, and a one-mile fun walk. The donations to participate all went towards the Grafton Food Pantry, scholarships for Huntley High School, and to support Veterans Path to Hope. 
In the afternoon, there was a Kris Kringle Market in the Fellowship Hall that had similar sellers that are seen in the town's farmers market. 
Right outside the Town Legion Hall lined a dozen 4-feet Christmas trees decorated by groups in the community. Some ranged from just decorations to trees that looked like the Grinch. These Christmas trees were voted on and the money went toward the Grafton Food Pantry. 
Sven and Eve sit and are cuddled up next to each other as children look in awe at their first witnessing of reindeer. 
"We are from A Zoo To You and these are our two of eight reindeer and during the winter seasons we will have around 15 events in a weekend, " Olivia Tyrrel petting zoo employee said.
Sven is full-grown with long antlers at 12 years old while Eve is only 6 months old. 
Not far from the reindeer there is a tent with 35 gallons of hot chocolate being given out for free by the Edward Jones business. 
"We start around 12 p.m. and it takes us until 2 p.m. to make all of it," Bob Gajewski, Edward Jones' financial advisor said. 
Gajewski's family has been coming for four years with his family to serve the hot chocolate to their community. 
This Huntley tradition has been ever-changing throughout the years, but it started with just a tree lighting in 2007. 
"We added a community pasta dinner this year and all the profits go to the Grafton Food Pantry," Read said. 
Local sponsors such as the Woman Auxiliary, Village Inn, and Rosattis all contributed to the pasta dinner. 
The event started off our Christmas season with a lot of holiday cheer. 
"I always say, it is one of the biggest small towns in the area," Gajewski said.  
This small town has made a large sense of community while also giving back to those in need through the hundreds of dollars donated to nonprofit organizations.