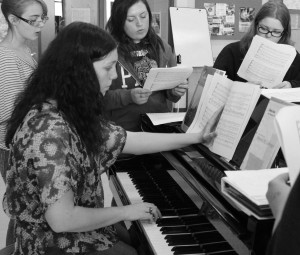 Music has always been a large portion of her life. Her mother, Julie Kurkjian, had once read a study that children involved with music are inclined to receive better academic scores than those who are not. Since the age of six, senior Allie Kurkjian has been enrolled in voice lessons. During voice lessons, Kurkjian began experimenting with Italian opera arias and later ventured deeper into the genre. At this time she discovered her new hobby. Everything blossomed from there on.
"It's a universal art form that you can find anywhere in the world," said Kurkjian. "It's a strong surviving genre that builds upon musical theater and revolves around singing in general. That's the big thing I like about it, plus it's just fun."
She has been taking private vocal lessons for 11 years now. This past year she opted for a new instructor, Tetyana Torzhevska, who is helping her perfect the operatic style. Not only does she attend out-of-school vocal lessons, but she is also in two extracurricular choirs. She has been in marching band since freshman year and knows how to play the flute and piano.
Whenever she is singing in front of an audience she wants to look her best. Usually her attire for performing is a dress. Kurkjian has performed in recitals for private lessons. Also, she has sung in solo/ensemble competitions and soloed at a choir concert as an entre acte. She has also been in many musicals in the past.
By chance, Kurkjian's voice teacher received an email stating that the Merit School of Music was searching for new applicants since their voice program has been expanding. Merit is a nonprofit organization located in Chicago. Merit School of Music's goal is to "help young people achieve their full musical potential, to remove economic barriers to participation, and to stimulate personal and educational growth through music."
There are many programs that this school has to offer. Kurkjian is involved with the Alice S. Pfaelzer Tuition Free Conservatory, which is Merit's most advanced musical program. Those who are enrolled in this program are advanced students with at least three years of experience on an instrument or singing. The students involved in this program meet 26 Saturdays during the school year for anywhere from three to nine hours.
Auditions took place during the month of August on a day that school was in session. Throughout the building were active students and the sounds of music pouring out of classrooms. To prepare for the audition Kurkjian was sent to a warm-up room and given 20 minutes to practice. The audition required one to sing in English, Italian, and German.
"It was pretty intimidating because it was only the vocal coaches in the room. That's it and they don't react to anything, so it is kind of intimidating," said Kurkjian.
Two months after auditioning, the director of the conservatory contacted her with the good news that she was accepted into the program.
"My family is very supportive," said Kurkjian. "They are a huge influence on me since I'm very close with all of them. My mother makes me sing at all our family gatherings, it's pretty funny."
She is currently looking into double majors and double degrees in colleges so she will be able to support her love of opera. She is well aware that it is extremely difficult to find a career with music, but she would love to find a position in singing.
"I have always had a passion for science and medicine so I think that would be an excellent path to pursue," said Kurkjian.
Kurkjian figured out that she wanted opera as a career when it was a little late. It all happened while she began visiting colleges. She was searching for a well-established science and medical program, but also for voice programs because she does not want to stop singing.
"The more I look into voice programs, the more that I am certain that I wish to do this," said Kurkjian.
For now, she is applying and sending in auditions with fingers crossed, hoping for the best. To prepare for college, she is really bearing down on voice lessons and preparing for auditions.