Egekeze leads Raiders to fourth straight FVC title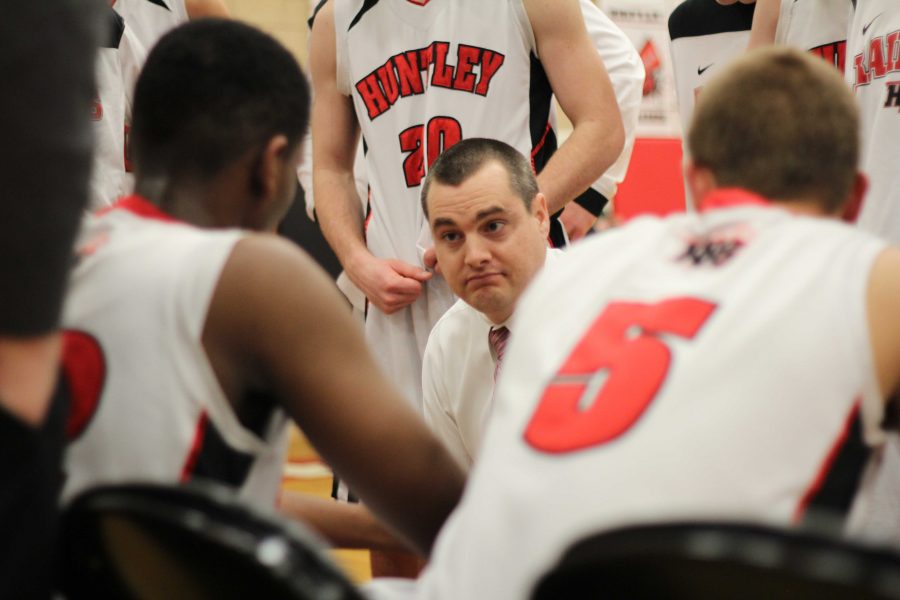 Going into Friday night's rivalry game at Jacobs, the Huntley boys basketball team had a one game lead on Jacobs in the Fox Valley Conference Valley Division with two games left to play. Led by Senior Amanze Egekeze's 24 points, Huntley became conference champion for the fourth straight year, with a 39-35 win against Jacobs.
Jacobs controlled the game early, leading 15-12 at the end of the first half. Amanze Egekeze had 8 points at half, but was still frustrated in his performance.
"I knew he [Egekeze] would make amends in the second half. Amanze is his own worst critic. I knew, after he struggled a bit in the first half, he would come out strong, and in the second half, he was unstoppable," said Huntley coach Marty Manning.
To start the second half, both Egekeze and the Raiders came out strong. Huntley started the second half on an 11-2 run and ended the third quarter ahead of Jacobs 27-22.
In the second half Egekeze scored double his points in the first half, finishing the game with 24 points. Egekeze made a large impact on defense as well with multiple blocks and deflections.
The atmosphere at the game was electric. Both Huntley's Raider Nation and Jacobs' Gold Rush showed up in full force for the game, and their chants filled Jacobs' "Eagle Nest" gymnasium with excitement.
We knew it would be loud and get intense at times," Egekeze said. "We were able to keep our composure well, especially when they made a run at the end. I wanted it this year more than ever".
Jacobs made a run in the fourth quarter led by three 3-pointers by junior Cory Boeckh, but Huntley's ability to make free throws, the same thing that caused them to lose against Cary Grove a week ago, led them to victory.
Coach Marty Manning said of the win, "I'm proud of the way our kids fought tonight. Jacobs is a good team and this is always a tough place to play. This is a big win for us heading down the stretch."