Is Derrick Rose Ready?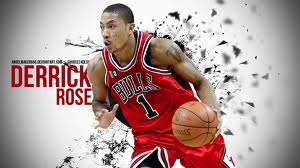 Derrick Rose said, "The Bulls are ready for the upcoming season." The real question that is on everyones mind is, is Derrick Rose ready for the upcoming season? The 2015 season is the first season Rose will be healthy since his knee injury in 2012.  On Nov. 25, 2012 Chicago's star point guard, Derrick Rose tore his meniscus, requiring extensive surgery. The Chicago fans did not know what to think when their hero went down. After his brief recovery, Rose tried to make a quick comeback, he wanted to help his Bulls win a championship.  Unfortunately, a second knee injury occurred, and again everyone was disappointed. Chicago was stunned and it showed when the Bulls fell short in the playoffs two consecutive years.
Derrick Rose has only played 10 games and 311 minutes of basketball in a two year span. Rose played for the USA basketball team this year hoping to show what fans could expect for the upcoming season. When Forward Paul George broke his leg in a scrimmage game it reminded everyone how quickly things can change. Rose said, "that could have been me."
Many fans and coaches wanted Rose to step down from the USA team and focus on his season with the Bulls. Rose rejected that idea and continued with the USA team but averaged only 5.4 points a game, including a devastating 1 for 17 behind the three-point-line. Rose continued to be positive giving himself an A, because according to him numbers do not scream success.
While Chicago is going crazy about their star player not performing, you have to remember he has only played 10 games. He is a little rusty and he has to get back in the groove. I believe once an athlete always an athlete and Rose will be fine.  No matter what the guy does critics are going to talk.
Gar Forman, general manager said, "he looks good, his momentum is good and his athleticism is good."
No one knows what to expect for the upcoming season but we all hope Rose is ready to perform. Chicago's pre-season will start tonight, Oct. 6, against the Wizards. Derrick Rose is expected to start this game.
Rose said, "I feel great, gonna show you guys what I can do."
Everyone is excited to see well how Rose will perform and hopefully lead Chicago to another championship.