Fantasy Masters: Week 12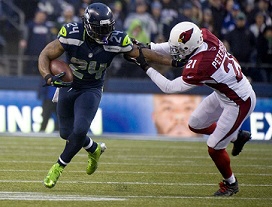 Arizona Cardinals (9-1) @ Seattle Seahawks (6-4) 3:05 PM CST
Tyler's Pick: Seahawks
Why: Seattle needs a win to stay in the NFC West chase. Arizona may be 9-1 but Seattle's defense should shut down an offense led by Drew Stanton.
Charlie's Pick: Cardinals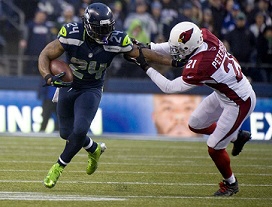 Why: The Cardinals have been dominant on both sides of the ball this year, especially in defense, and they have the best record in the NFL.
Fantasy Impact: Marshawn Lynch should have a solid game against a Cardinals' defense that has allowed over 20 points to opposing running backs over the last three games. Andre Ellington has upside in PPR leagues since Seattle's Legion of Boom should shut down the Cardinals' wideouts. Russell Wilson and Drew Stanton are not worth starting since both Seattle and Arizona feature excellent secondaries.
Miami Dolphins (6-4) @ Denver Broncos (7-3) 3:25 PM CST
Tyler's Pick: Dolphins
Why: Miami is coming off of a big win against Buffalo and Denver is reeling after losing big against the Rams. Ryan Tannehill has played great over the last few weeks and should help carry the Dolphins to victory.
Charlie's Pick: Broncos
Why: The Broncos need to stop the downward skid they are on right now and this matchup against one of the toughest defenses in the NFL should be tough. Look for their elite offense to carry them to the win.
Fantasy Impact: Denver's secondary has looked shaky at times this season, so Mike Wallace and Jarvis Landry could have decent games. CJ Anderson could do well in PPR leagues since he is coming off of a game where he led Denver in targets. DeMaryius Thomas could be poised for a huge game if Emmanuel Sanders does not pass the NFL's concussion protocol.
Dallas Cowboys (7-3) @ New York Giants (3-7) 7:30 PM CST
Tyler's Pick: Cowboys
Why: A win here would keep the Cowboys at the head of the NFC East and New York is coming off of a game where Eli Manning threw five interceptions.
Charlie's Pick: Giants
Why: The return of Rashad Jennings and the emergence of Rueben Randle and Odell Beckham Jr. make this Giants offense highly-effective and against a sub-par Cowboy's defense, they should have no problem.
Fantasy Impact: While Eli Manning struggles continue, Rashad Jennings is back in the fold and should be leaned on heavily to produce yards from scrimmage. Odell Beckham Jr. and Rueben Randle are emerging as viable WR2/Flex considerations sheerly due to their high target rates. Cowboy's Running Back DeMarco Murray has been dominating defenses far better than that of the Giant's this year. Look for the trend to continue against the 31st ranked defense in the league. Going forward, the Cowboys have a very favorable schedule and key players on the roster, such as Tony Romo, DeMarco Murray, and Dez Bryant, should be considered candidates for late-season trades by smart fantasy owners.