Top 10 NBA games of the week: Monday Jan. 19 – Sunday Jan. 25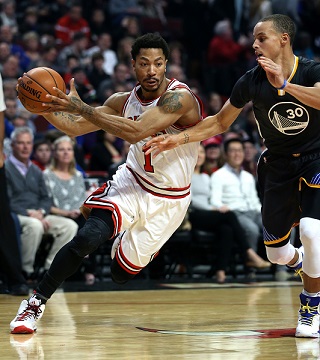 Top 10 NBA Games of the Week: Monday Jan. 19 – Sunday Jan. 25
#1
Game- Brooklyn Nets v. Los Angeles Clippers- Thurs. Jan. 22 @ 9:30
Tyler's Pick- Clippers
Why: Los Angeles is one of the best teams in the NBA, and they have 2 legitimate superstars in Chris Paul and Blake Griffin. No one on the Nets can matchup with Paul or Griffin, and the Clippers complement of shooters like JJ Reddick and Jamal Crawford should easily be able to bury the Nets in a barrage of 3s.
Charlie's Pick- Clippers
Why: The Clippers have been elite passing the ball and on the fast break this year and that should continue against a generally older Nets team that will struggle to keep up.
#2
Game- Houston Rockets v. Golden State Warriors – Wed. Jan. 21 @ 9:30
Tyler's Pick- Warriors
Why: Golden State is one of the best teams in the league, and their are just too good for Houston. Their depth along the perimeter and outstanding shooting are going to be too much to overcome for a Houston team who plays questionable defense.
Charlie's Pick- Warriors
Why: While this game will be high scoring, the interior defense of the Warriors will prove too much for a Rockets, who will struggle to outscore a very high-octane Golden State squad.
#3
Game- San Antonio Spurs v. Chicago Bulls – Thurs. Jan. 22 @ 7:00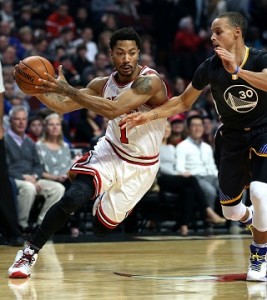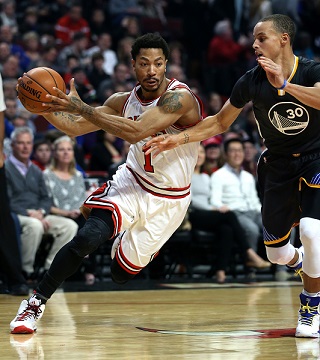 Tyler's Pick- Bulls
Why: Chicago will be looking to bounce back after a bad loss against Cleveland. Expect Derrick Rose and company to be motivated to prove that they are one of the best teams in the league.
Charlie's Pick- Spurs
Why: Chicago is banged up and has struggled against some of the top teams in the league. Why shouldn't that trend continue against the Spurs? Not to mention the fact that the Bulls have been 4-6 in the last 10 games.
#4
Game- Toronto Raptors v. Memphis Grizzlies – Wed. Jan. 21 @ 7:00
Tyler's Pick- Grizzlies
Why: Toronto hasn't been playing their best basketball as of late, and Memphis has been solid all season. Mike Conley matches up well against Kyle Lowry and Tony Allen can shut down either Lowry or Demar Derozan. Marc Gasol and Zach Randolph give Memphis a big advantage inside and they should dominate the glass and impose their will in the paint.
Charlie's Pick- Raptors
Why: The Raptors are hyper-athletic on the fast break and have good young pieces that may have a chance to shine in a game that looks to be fairly defensive.
#5
Game- Oklahoma City Thunder v. Cleveland Cavaliers – Sun. Jan. 25 @ 2:30
Tyler's Pick- Thunder
Why: Cleveland's defense has been shaky all year and Oklahoma City should be able to take advantage with Kevin Durant and Russell Westbrook. Nobody on the Cavaliers can match up with Serge Ibaka in the paint and Oklahoma City has spark plugs off the bench in Reggie Jackson and Dion Waiters who should provide a boost.
Charlie's Pick- Thunder
Why: With the lack of solid interior defenders, the Cavaliers will struggle to stop the driving of Russell Westbrook and Kevin Durant. The Thunder also have more bench depth and should be able to hold off the struggling Cavaliers in all aspects of the game.
#6
Game- Dallas Mavericks v. New Orleans Pelicans – Sun. Jan. 25 @ 5:00
Tyler's Pick- Mavericks
Why: Dallas is one of the better teams in the Western Conference, and they match up well against the Pelicans. Rajon Rondo can easily hold his own against Jrue Holiday and Dirk Nowitzki should have a field day. Tyson Chandler is one of the better defensive centers in the league and should be able to slow down Anthony Davis just enough to let the Mavericks escape with a win.
Charlie's Pick- Mavericks
Why: One of the best teams in the league, the Dallas Mavericks have talent at all of their positions and should be able to hang defensively and score enough points to come out on top. The addition of Rajon Rondo was huge for the Mavericks and as he helps the team with his passing and tough perimeter defense, meaning Jrue Holiday will have a rough time.
#7
Game- Chicago Bulls v. Dallas Mavericks – Fri. Jan. 23 @ 7:00
Tyler's Pick- Mavericks
Why: Chicago has been uncharacteristically poor on the defensive end, and the Mavericks have too much scoring ability for Chicago to stay with them in a shootout. Expect Dirk Nowitzki to take advantage of either Pau Gasol or Nikola Mirotic. Rajon Rondo should be able to shut down Derrick Rose.
Charlie's Pick- Bulls
Why: The Bulls have both the talent and the depth to hang with the Mavericks. Jimmy Butler has bursted onto the scene for the Bulls, Pau Gasol fits into the offense nicely, and the addition of key backups such as Aaron Brooks and Nikola Mirotic give the Bulls great scoring off the bench.
#8
Game- Los Angeles Clippers v. Phoenix Suns – Sun. Jan. 25 @ 5:00
Tyler's Pick- Clippers
Why: The Clippers' duo of Chris Paul and JJ Reddick can are a step above Phoenix's Goran Dragic and Eric Bledsoe. Blake Griffin and DeAndre Jordan provide an inside duo that Phoenix can't match. Jamal Crawford provides some of the best bench scoring in the NBA and the Clippers depth should help them get past Phoenix.
Charlie's Pick- Suns
Why: The Phoenix Suns are one of the deepest teams in the league and are adept at both the fast break and three point shooting. This is the perfect play style to combat the Clippers' high-flying offensive assault. On defense, the Clippers are superior, but the three-point scoring of the Suns should cancel out the defensive pressure.
#9
Game- Washington Wizards v. Portland Trail Blazers – Sat. Jan. 24 @ 9:00
Tyler's Pick- Trail Blazers
Why: Damian Lillard and LaMarcus Aldridge are one of the best duos in the league and it seems like nobody can stop them. Portland has been a shockingly good defensive team, and their depth has improved substantially since last season. Although John Wall and Bradley Beal provide the Wizards with a great backcourt, their lack of depth will hurt them against Portland.
Charlie's Pick- Wizards
Why: The Wizards have played well over the past few games, going 7-3, and have a good combination of interior and exterior players that make for a good team. While Portland is a solid team this year, they lack the depth to contest with the Wizards for the full 48 minutes.
#10
Game- Oklahoma City Thunder v. Atlanta Hawks – Fri. Jan. 23 @ 6:30
Tyler's Pick- Thunder
Why: Although Atlanta is the hottest team in league, Oklahoma City has the superstar players that matchup well against Atlanta. Russell Westbrook is virtually unguardable and should be able to handle Jeff Teague. Kevin Durant is arguably the best player in the game and will find ways to score regardless of who is guarding him. Serge Ibaka is a great defender and he has the athleticism to follow Paul Millsap around the court. Andre Roberson and Reggie Jackson should be able to play enough defense to throw Kyle Korver off of his game and prevent the Hawks from finding easy baskets.
Charlie's Pick- Hawks
Why: The finally healthy Hawks have been a huge surprise this year and have emerged as an elite offensive and defensive team. The combination of a hyper-athletic guard, an elite three point scorer, and a big with range is deadly and is near impossible to defend.