Last March, the brave Lexi Lowitzki volunteered to do what not many people, let alone girls, would be willing to do, during the St. Baldrick's event held at Huntley High School, shave all of her hair off.
Lowitzki is currently a senior at HHS who participates on the girls golf team, girls basketball team, and she also is a Raider Nation leader.
"I didn't really have a specific person to do it for," said Lowitzki. "But later on that day [the night before St.Baldrick's] we found that my best friend's mom was diagnosed with breast cancer."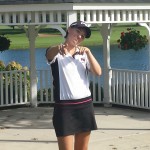 Lowitzki felt laid back as pieces of her hair fell on the floor. Friends and family came to watch her hair go from a medium length to a buzz cut. Some friends even began to cry. Lowitzki was not emotionally attached to her hair and did not let any emotions out compared to others.
"Having short hair has its ups and downs," said Lowitzki. "Being an athlete, it is good. I wish I didn't look like a boy."
That is the only negative comment Lowitzki had on her hair. Otherwise, she likes being a good example for her cousins. She likes knowing that they can look up to her and see that it is good to support others.
Not only can Lowitzki's cousins see her as a role model, but so do the students at HHS.
"Many girls look up to her for doing that," said senior Kennedy Lucas.
Lowitzki said that she was shocked with all the encouragement she received. She didn't know that people all around HHS, whether they knew her or did not, would be so supportive of her decision.
When it comes to whether Lowitzki would or would not shave her head again, her only response was this.
"There has been talk on the street that I might be Mr. Aney's partner for St. Baldrick's next year"