Fantasy Masters Predictions for Week 7 of the NFL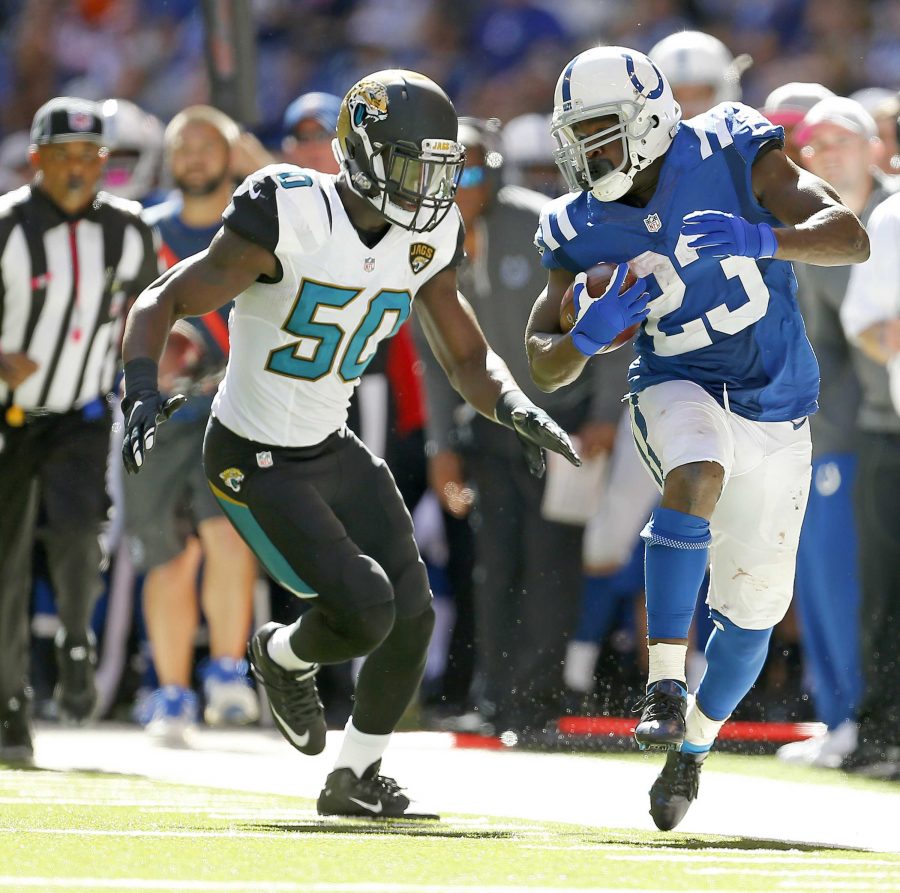 Buffalo Bills (3-3) @ Jacksonville Jaguars (1-5) – Sun. Oct. 25 @ 8:30 a.m.
Charlie's Pick: Jacksonville Jaguars
Why: Jacksonville's offense has been explosive this year. With a Buffalo team that has struggled more than expected on defense this year, Jacksonville should be able to outscore the Bills stagnant offense.
Tyler's Pick: Jacksonville Jaguars
Why: Buffalo comes into this game missing key players on both offense and defense. Jacksonville has been able to score on every team they've faced this year, and they've become deadlier with Allen Robinson steadily improving and Julius Thomas returning to full health. Their defense is shaky but Bills quarterback Tyrod Taylor has few weapons on offense without injured wideout Sammy Watkins and running back Karlos Williams.
Fantasy Impact: Jaguars wide receivers Allen Robinson and Allen Hurns are must-starts this week. Both receive plenty of targets and have dominant games this year, and, outside of Stephon Gilmore, Buffalo's secondary is weak. Tight end Julius Thomas is also a must-start since tight end is a shallow position and he is one of the few tight ends who is an elite option for any offense. For Buffalo, running back LeSean McCoy and tight end Charles Clay are must-starts. McCoy is a quick and shifty back who is finally fully healthy, and Jacksonville has struggled to contain similar runners, such as Dion Lewis, this year. Clay is similar to Thomas' ability as a receiver and will likely garner the majority of the targets with Watkins out. Clay is a touchdown machine and Jacksonville hasn't shown any ability in stopping athletic tight ends.
Dallas Cowboys (2-3) @ New York Giants (3-3) – Sun. Oct. 25 @ 3:25 p.m.
Charlie's Pick: New York Giants
Why: While he is still a viable receiver for fantasy purposes, Odell Beckham Jr. has been a shell of his 2014-2015 self this year. Injuries have allowed the league's better corners to cover him tightly. Even so, the Giants, atop the league in rush defense, should be able to contain a run heavy Cowboy offense.
Tyler's Pick: Dallas Cowboys
Why: Dallas' pass rush has been ferocious since the return of Greg Hardy, and they may get rookie Randy Gregory back this week to improve an already-incredible group of defensive ends. No one on Dallas can cover Odell Beckham Jr., but they should easily pressure Eli Manning behind a weak New York offensive line, and Manning is prone to mistakes when pressured. On offense, Dallas is relatively weak but should control the ball for most of the game and get points when needed.
Fantasy Impact: The Dallas offense has been decimated by injuries this year. Productive fantasy players Lance Dunbar, Tony Romo, and Dez Bryant are all out for extended periods. This has opened up holes in their offense that have been filled by Cole Beasley's flex production at WR, Jason Witten's increased role at tight end, and a few explosive performances from Joseph Randle and a dominant Cowboy's O-Line. As always, Odell Beckham Jr. is a must start fantasy option, but there are other players on the Giants that are interesting. Rueben Randle is emerging as a viable flex play and Shane Vereen is a solid RB2 in PPR formats. The Giants defense offers an intriguing streaming option this week, as the COwboys have looked very poor when they can't run the ball.
Baltimore Ravens (1-5) @ Arizona Cardinals (4-2) – Mon. Oct. 26 @ 7:30 p.m.
Charlie's Pick: Arizona Cardinals
Why: Last week aside, Arizona has dominated opponents. Against a Baltimore team that has been uncharacteristically bad on defense this year, the multi-faceted Arizona offense should have no trouble putting up points.
Tyler's Pick: Arizona Cardinals
Why: Arizona has been dominant this year on both offense and defense. Baltimore has struggled with elite passing offenses this year, so expect Carson Palmer to fire plenty of long balls to studs Larry Fitzgerald and John Brown. Arizona's defense has looked shaky at times, but Baltimore lacks the weapons to challenge the Cardinals deep, so they can load the box against stud running back Justin Forsett.
Fantasy Impact: Baltimore has struggled to defend the pass this year, so Carson Palmer should be a productive play at quarterback this week. Look for wide receivers Larry Fitzgerald and john Brown to provide good value this week in daily. Baltimore lacks the weapons on offense to move the ball against a stout Cardinals defense. This may lead to a lopsided game early forcing the Cardinals to control clock by running the ball in the second half. If this game plays out like it should, running back Chris Johnson may have 25 touches and David Johnson is a good bet to get a goal line touchdown. The situation devalues Andre Ellington, as he is mainly a passing down back. Baltimore may have some sneaky value plays at flex this week, but it is hard to single a player out in their unimpressive offense. Trust the Cardinals this week, bench the Ravens.