On Friday night, Huntley walked away with a 52-33 win at home against Jacobs, making them 2-0 in their conference on the week after beating Cary on Wednesday night.
The starters for Huntley, including seniors Ali Andrews, Paige Renkosik, and Kayla Barreto along with juniors Maddy Moffett and Morgan Clausen, gained possession of the ball after Jacobs missed shots led the game.
Despite starting off the game behind Jacobs 7-4, senior Ali Andrews made a shot from behind the three point line to tie the game 7-7.
The Raiders kept a steady lead the entire game after tying it up, thanks to 3 pointers from Barreto and Andrews early on. At the end of the first, Huntley was leading 17-10, but the girls were still looking to extend their lead.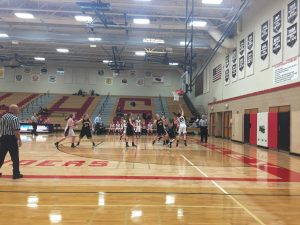 "In the first half our defense wasn't as strong as we wanted it to be, but we knew we needed to play a good game tonight to go into tomorrow's game ready too," said senior Paige Renkosik.
The Raiders started the second quarter off strong after a breakaway from Andrews, leading the scoring overall for Huntley with 20 points on the night. Several blocks and turnovers throughout the game recovered by Andrews, Clausen, and Renkosik helped lead the game for Huntley.
"I thought it was a strong effort and I thought we had some people step up tonight in the first half on the offensive end," said head coach Steve Raethz.
After the half, layups and 3-pointers led to Huntley controlling possession of the ball for most of the third quarter and leading the game 48-21.
For the Red Raiders, the fourth wasn't the strongest scoring wise as a result of Jacobs' controlling the ball. While the Golden Eagles played their best basketball at the end of the game, Huntley still held out and scored 4 points, all of those coming from junior Abbey Brown.
Still, Huntley controlled their solid lead in the game, and came out with the win.
"We had a goal going into this week to go 3-0 and be able to have a good seed for our Christmas tournament," said junior Lexi Lowitzki. "So we were pretty amped up to play tonight."
The Raiders next game is December 5. versus St. Joseph at the Chicagoland Invite.