Taking a Shot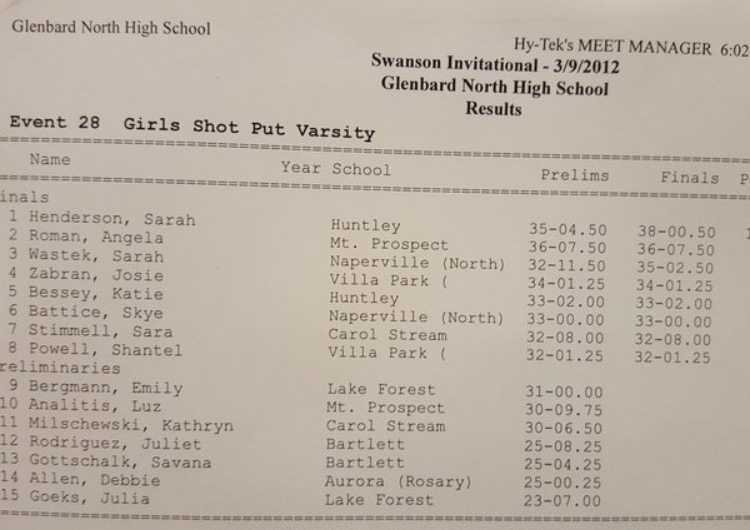 At the end of the track and field season last year, she made a promise to herself for the next season, a promise she told herself she would keep.  As for most athletes, improvement happens in the offseason, and that was exactly what senior Sarah Henderson was determined to achieve.
"I was tired of being in fifth, sixth, and seventh place," said Henderson.  "So I started weight lifting and doing harder workouts four or more days each week so I could be in the best shape possible for my senior season."
Fast forward to March of her indoor season and Henderson is on her final throw of the shot put event at the Glenbard Invitational.  She was not feeling well and her first two throws were mediocre, yet she so desperately wanted to beat her personal record of 36 feet, 7 inches.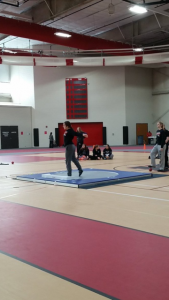 She picked up her eight pound shot, rested it in her neck, and stepped around the back of the circle.
Henderson took a deep breath, spun, and released the shot with everything she had, stopping her momentum by skidding into the toeboard.
"I was having a really off day," said Henderson.  "Nothing felt right, but I had one throw left and I just told myself to let everything go and see what would happen and then I threw four feet farther than I had the whole meet."
The weight lifting and workouts definitely showed that night, where Henderson not only came in first place for varsity, but also set her personal record of 38-.5.  She was extremely surprised as she never imagined she would meet her goal so early in the season.
"I was so surprised with how well I did and all of the progress I have made so far in the indoor season," said Henderson.  "I can't wait for the outdoor season to start and to see how much I accomplish."