Life is good for Mac Radner (Seth Rogen) and pregnant wife Kelly (Rose Byrne) until a sorority moves in next door to their house. Loud music, parties, and trash threaten the sale of this married couples house, and they go to the one person they know best, Teddy Sanders (Zac Efron). Mac, Kelly and Teddy come up with many plans to get the Sorority kicked out, but these girls are not going down without a fight.
I thought this movie was absolutely hysterical. Seth Rogan is a god and continues to amaze everyone. I did feel like this movie was exactly the same as the last Neighbors. Most people expected that coming into the movie and I think that's what made it even more funny.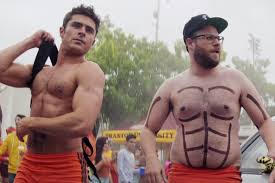 This movie appeals to everyone, Zac Efron definitely gets the attention of many viewers but  many underestimate his ability to perform in Comedy movies. Efron hit it out of the park with this one the Rogen Efron Combo is absolutely ridiculous some might compare it to a Ferrell Hart combo. They both know how to work together and it seems like they like to work well with one another.
I would give this movie 3.5 stars out of 5, for its Amusement and never ending excitement. The one thing that I did not like about this movie would be the plot. After seeing Neighbors 1 I thought this movie would be a little different. There was not much of a difference between these movies, the only thing was it was not a frat house it was a sorority. Overall this movie was a great sequel to the first Neighbors and I would Recommend it to any teenager who is old enough to get into this movie. Definitely a good movie to go see with your friends and I would not see this movie with my parents, once again I WOULD NOT SEE THIS MOVIE WITH YOUR PARENTS.