NBA Playoff Predictions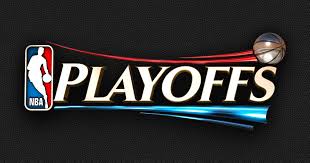 The NBA playoffs are underway and some surprises have arose. Many thought that the San Antonio Spurs and the Golden State Warriors were a guaranteed match-up for the NBA Championship. That did not go as planned for the Spurs. They were upset by the Toronto Raptors in the second round of the playoffs. Kyle Lowry and Demar Derozan took over and led the Raptors to a victory.
The Warriors, on the other hand, have been walking through the playoffs with no harm at all. Now in the third round the Raptors have to take on LeBron James and the Cleveland Cavaliers, while the Warriors take on the Oklahoma City Thunder. Statistics say that the finals should be the Cavs and the Warriors, but the Thunder and Raptors think otherwise.
With talent on all teams, it is hard to say who will win these games. The Thunder lead the Warriors 2-1 in their series, and the Raptors are tied 2-2 with the Cavs. The NBA playoffs were thought to be set and stone but the upsets have been huge this year.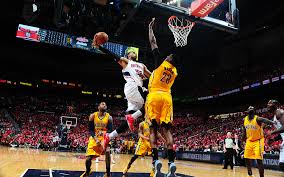 If I had to pick a winner from each series, I would say that the Thunder would upset the Warriors in seven. You cannot forget that Stephen Curry, the two-time MVP, can change a game in a matter of minutes. This series will be one to watch.
The Cavs will beat the raptors in seven. The Raptors have done enough to prove themselves as an elite team in this league. But Lebron and the Cavs are too good, I do not think the Raptors will win a game seven against the Cavs.
The Thunder will beat the Cavs in six games, Durant and Westbrook are too good right now and anything in their way will be stopped. I believe this year is the year for OKC and the Thunder will be crowned NBA champions.