In an unconventional way, due to lightning and downpour, the Red Raiders celebrated their 4-3 win over Hononegah inside Rockford Guilford's field house.
As the Red Raiders recreated the last pitch of the game, with junior Joe Rizzo catching the ball from junior Jeff Heinrich, the team tackled Heinrich and formed a dog pile on the basketball court, celebrating their fourth regional win under head coach Andy Jakubowski.
"This means a lot, especially after we came off last season at 9-27," said Heinrich.  "We did it for the seniors, really. They didn't have great experiences last year. We weren't given a lot of slack coming into the season."
In the regional match up, Huntley jumped out to an early lead from RBI singles from both Rizzo and Brad Model in the first inning giving them a 2-0 lead.
Hononegah wasn't discouraged though, coming back to tie it in the bottom of the third.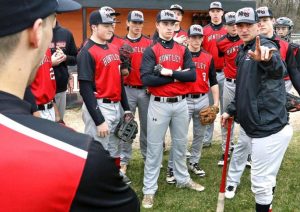 Huntley reclaimed the lead in the next half inning on a sacrifice fly from Heinrich, putting the Red Raiders back in front 4-3.
This proved to be the deciding factor in the game due to a bad storm that soaked the field and made it unplayable which ended the game after only five innings.
"It's unfortunate that the rain came. We wanted to play a full seven," Jakubowski said. "But according to the rules, it had to revert back to the fifth. Our guys did a good job of getting ahead early and maintaining that lead. It put us in a good position with bad weather."
The Red Raiders look to continue their winning streak against Prairie Ridge Wednesday, June 1 at home.