Bloodshed and Betrayal Reign in Macbeth
The Huntley High School Performing Arts Center showcased their production of "Macbeth" on Oct. 26, 27, 28, and 29 at 7 p.m. in the PAC.
The show was about two and a half hours long with one intermission, and kept the crowd on the edge of their seats the entire time.
Macbeth was the first theater performance of the year and left many audience members speechless, with almost 400 people who went each night.
"We put in so much work," junior Jacob Lopez, who played Banquo, said. "This is probably one of the best shows at Huntley."
The rehearsals began months before opening night and the dedicated cast put in hours of hard work to achieve the level of success they wanted.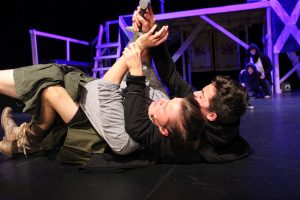 "With this show, our goal was to create a new name for theater at Huntley High School," junior Ben Johnson, who played the role of Macbeth, said. "Macbeth was supposed to appeal to everyone and show them that theater is different than what they thought."
Macbeth stood out to many of the cast members as their favorite show to be a part of, with more effort put into the acting, blocking, and directing.
"Macbeth is so much grittier and so much more of a war," senior Leslie Allen said. "The cast are the best soldiers I could ever think to take into battle."
Allen has been a part of many performances including "Hamlet", "A Midsummer Night's Dream", and "The Disappearance of Daniel Hand". In this performance, she played the role of Lady Macbeth.
Macbeth was full of action and fighting, and the scenes were almost portrayed identically from the Shakespearian play.
"My favorite scene is the Mac[beth] and Mac[duff] fight, which is the final fight of the show," Lopez said. "There was a lot of build up and had so much meaning behind it."
The cast worked extremely hard to put on an amazing performance for the students, parents, and community this weekend.
"I enjoyed watching the show come together," Allen said. "Watching everything evolve and fit this masterpiece we created."