Fighting for their rights
Citizens of Indianapolis cross over Washington Street, just like they do every day.
But today something is different, something is off.
There is a crowd by the Indiana State House, and walking towards it chants are getting louder.
In the distance there are signs waving in the air with blurry words unable to be read.
Walking closer, the shadows turn into figures and the words become clear.
Love trumps hate, they shout. He is not my president, the signs read.
On Nov. 12 starting at 5 p.m. a "Trump Resistance Rally" began at the Indiana State House. The crowd started off filling the lawn, before it began to stretch to the streets of Indianapolis.
Citizens from all over Indiana gathered in the city of Indianapolis to show the world they do not support President Elect Donald Trump.
What started off as a peaceful movement turned to violence around 8:15 p.m. when three police officers on horses blocked the intersection of the Wholesale District.
Protesters were tackled to the ground, shot with paint guns, tear gassed, and arrested.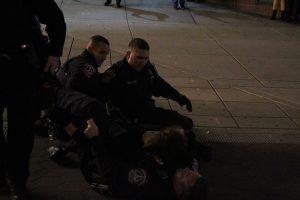 "We were continuing what we were doing, just marching peacefully in laps like we've been doing for hours and all of a sudden they just showed up and attacked all of us," protester Ivy Deglandon said.
Police Officers stood in the middle of the Wholesale District, some on horses and some in cars. Protesters were shouting at them, telling them they just do not care.
"We started marching in the streets and the police got very violent and started attacking the people," protester Aiyna Stanley Jones said. "They ambushed us really, arresting people, choking people, one of my friends got choked, my best friend is in jail right now."
When asked to comment on the situation, police officers were not able to speak.
One protester stood out because of her bravery and peacefulness. She was positioned on the corner, holding a poster in one hand and a peace sign on the other, while standing in complete silence.
When asked for her name she said, "it does not matter, I am a woman in America."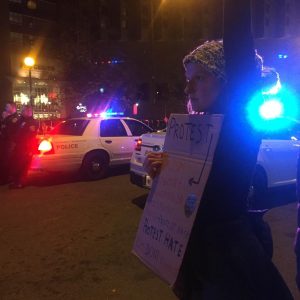 A woman police officer placed a badge sticker on the woman protesters sign to show a sign of peace. The protester then walked away and said she had made her point.
In total, seven people were arrested and two officers were hurt. According to the Indy Star, three of the people arrested were not citizens of Indiana.