Boys basketball falls short against rival Jacobs
The energy in the gym was electric. The Huntley Red Raiders' boys JV basketball team had just completed a stunning comeback, topped off with a pair of free throws at the end of the game to give the Raiders a one point win. The roar of the crowd was deafening as the varsity jogged out to begin warm ups.
Unfortunately, the crowd quickly became silent after the tip.
The Red Raiders boys basketball team fell to the Golden Eagles 70-32, sinking the Raiders to a 1-4 start to the season.
The game itself was a series of opposites: the Hicks vs. the Yuppies. Big vs. small. Hot vs. cold. The Raiders were out sized and out gunned throughout the entire game. Jacobs' star center and Loyola commit, Cameron Krutwig, at 6'9″ stood at least six inches above every Huntley player on the floor. Krutwig finished the game with 14 points, but was not the Raiders' greatest threat on offense.
Jacobs' senior guard, Cooper Schwartz, dominated the 3-point line, swishing six for a game-high 18 points.
"Our major concern was Cam [Krutwig] for obvious reasons," Huntley senior guard, Matt Seng, said. "We had to rely on more help defense, which left their shooters with better looks."
By the end of the first quarter, the score was 6-15 with the Golden Eagles leading. Huntley was hanging tough, but the game quickly swung out of control when Jacobs began the second quarter on a 5-0 run.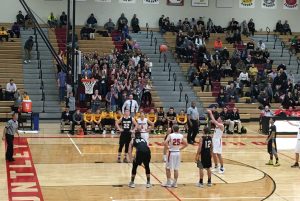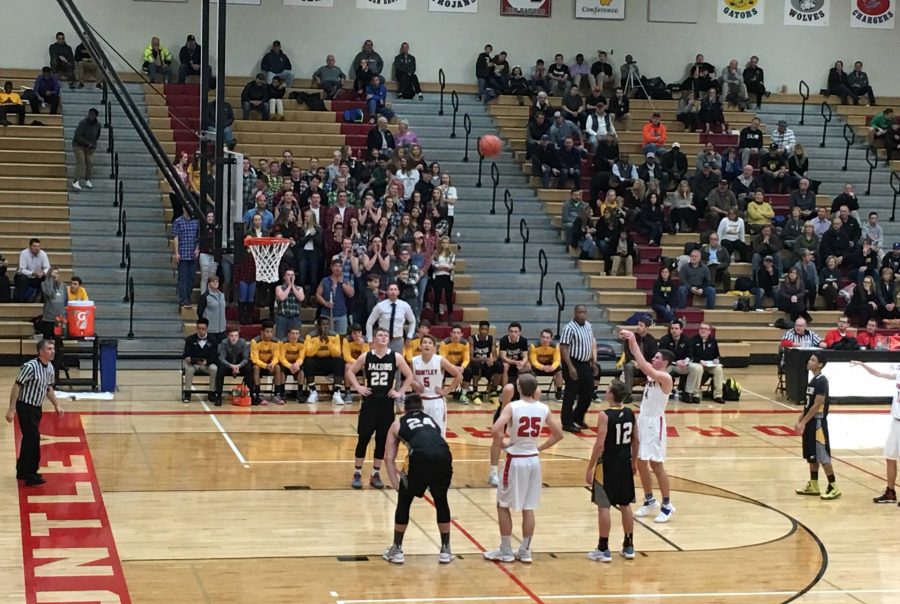 Red Raiders coach Will Benson called time out with five minutes to go until half time in an effort to swing the momentum back to the home team's side. The Raiders came out in a 2-3 zone and forced a turnover, and scored on a graceful finish by junior Cory Knipp. The Raiders cut the lead to 13 points, but the Eagles countered quickly by forcing turnovers and capitalizing on transition. By halftime, Jacobs extended their lead to 29-10.
The dagger finally came when Schwartz swished 4 three-pointers within the third quarter, running the score up to 51-21. Although senior guards Stephen Browne and Seng added 9 and 5 points respectively, the Raiders ultimately could not keep up with the hot shooting and sheer size of Jacobs.
"Our goal is to get better each day, and in some instances we did," Benson said. "We're going to have to put this game behind us and use it as motivation for practices and games to follow."
Huntley's next conference game is scheduled for Saturday, Dec. 3 at 3:30 p.m. at Crystal Lake Central High School.