As a disclaimer, I would like to start this review by saying I am an avid "Star Wars" fan and will more than likely not have anything bad to say about the franchise as a whole ever in my entire life. Not that there is anything bad to say about the franchise.
"Rogue One: A Star Wars Story" is no exception to the precedence set by Episodes I-VII. Quite honestly, it might be the best installment yet.
Keeping with the theme of a strong, fearless female lead from "The Force Awakens," "Rogue One" follows the journey of Jyn Erso (Felicity Jones) as she attempts to retrieve the plans of the Death Star, which is being engineered by her father, Galen Erso (Mads Mikkelson).
The "Star Wars" franchise is notorious for time-hopping: "A New Hope" was technically the first movie, but is really fourth in line with its compatriots, while "The Force Awakens" picks up where "Return of the Jedi" left off. Going back to the galaxy of time warp, "Rogue One" falls between Episodes III and IV, a need-to-know fact that puts everything into perspective.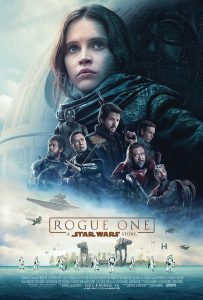 Along Jyn's quest, we meet Rebel fighter, Cassian Andor (Diego Luna), who becomes her main travel companion, along with blind Guardian of the Whills, Chirrut Imwe (Donnie Yen). To add some comical relief, director Gareth Edwards placed a mirror image of the original C-3PO into the mix, an Imperial droid named K-2SO (Alan Tudyk). Each actor gave a believable, heart-wrenching performance; beyond the masterful landscapes across galaxies and epic fight scenes, it was the incredibly genuine performances given by each character that hit home for die-hard fans.
Although "Star Wars" has always defined and redefined epic fight scenes, "Rogue One" went more militaristic than its predecessors. The effects of war and destruction are the underlying themes of this film, similar to those of Steven Spielberg's war-drama "Saving Private Ryan." The explosions are bigger, the deaths are multiplied, and the destruction is amplified. This movie is fast-paced and emotional with just the right mix of new and old, including some Easter eggs for series enthusiasts.
All in all, "Rogue One" is a fantastic addition to the "Star Wars" franchise, but is an even better stand-alone film. It will tie us over until next Christmas for Episode VIII.