Don't be that person who spoils the truth about Santa Claus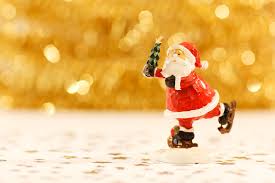 Lights twinkle on the tree illuminating the darkness, cookies and milk reside by the fireplace, and children sleep in their beds waiting for Santa Claus to slide down the chimney on the night of Christmas Eve. Unless those children already know the truth about the man in the red suit and how old St. Nick doesn't really exist.
Don't be that person who spoils the truth about Santa Claus to little kids. "Tina Fey spoiled it for me in "30 Rock" when I was 8 years old," sophomore Zella Haase said. "She said 'that's just a childhood dream like Santa or the Tooth Fairy' so I asked my mom what that meant and that's when I learned Santa wasn't real."'
It's supposed to be the most wonderful time of the year where Frosty the Snowman is a jolly happy soul, Jack Frost nips at your nose, Rudolph goes down in history, and where you rock around the Christmas tree. Ruining the magic of Santa should not be on your to-do list.
"I saw my parents bring down the presents from Santa and put them under the tree" junior Alex Presley said. "In the morning, I was telling everyone to go back to bed because Santa never came because I knew the presents under the tree were from my parents."
Some people just figure out the truth themselves, which is a part of growing up, but don't go telling 6-year-olds that the elves in Santa's workshop don't exist.
"I was 6 years old and my brother woke me up Christmas Eve night saying he wanted to show me something," sophomore Christine Becker said. "He showed me, my parents, putting the gifts from Santa under the tree."
Now if you know someone in their 20s still convinced that their presents were brought to them in a sleigh pulled by reindeer, then maybe it's time to tell them. But believing in Santa adds a bit of magic to the holidays, so don't be that person who ruins the magic.