Smoothology Cafe leaves impression with flavor and atmosphere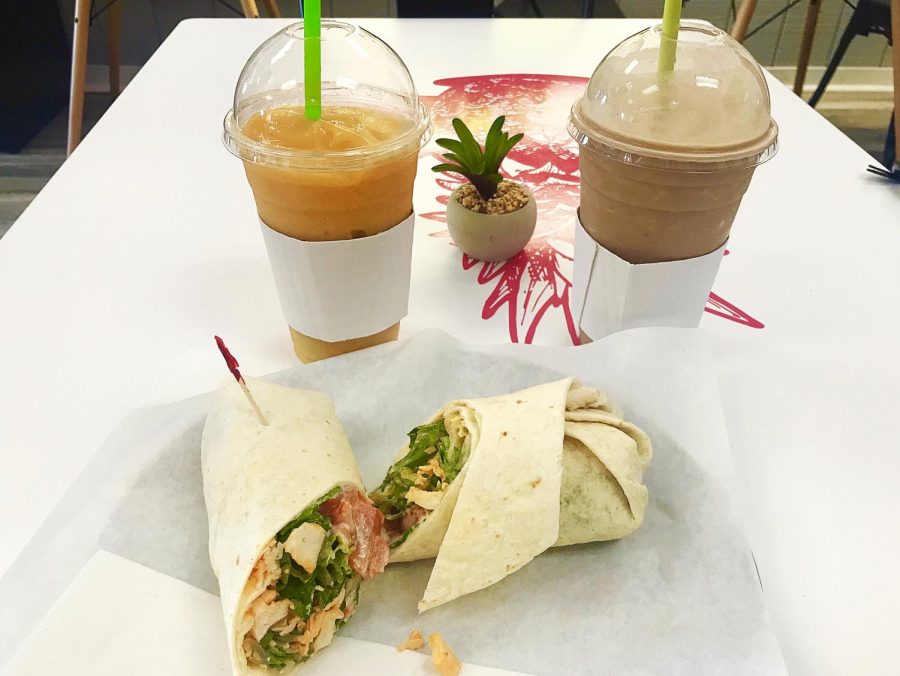 I decided to take a trip to Downtown Crystal Lake after a cold, tiring day. As I was driving, I noticed a new cafe hugging the corner of Woodstock Street.
The eatery appeared to be dancing with color. I entered Smoothology Smoothie Cafe and immediately appreciated the modern, vibrant environment.
Smoothology's interior stands out with its colorful fruit aesthetic; eye-catching berry paintings, fluorescent pink LED lights, and trendy pineapple pillows are only a few of the admirable decorations featured in the cafe.
The menu items were equally as exciting as the atmosphere. Variety is key: Smoothology offers multiple choices for smoothies, sandwiches, and other healthy items.
My order consisted of the PB Delish yogurt smoothie ($5.99), Vitamin C Blast specialty smoothie ($6.99), and the Buffalo Chicken wrap ($7.99).
While I waited for my meal, I sat on Smoothology's picture-worthy, magenta couch. The cafe incorporates various seating options, including chair couches, regular tables, and bar stools.
My name was called and I walked up to receive both smoothies. Moments later, the worker served me the chicken wrap.
The PB Delish was a milk-chocolate brown, the Vitamin C Blast was a vivid orange, and the wrap was a bright rainbow. Just based on the colorful and high-quality appearance, I was already impressed by my meal.
I first took a sip of the PB Delish smoothie, which is now one of my favorite peanut butter treats. There was an excellent blend among the chocolate, banana, yogurt, and peanut butter flavors.
Though the Vitamin C Blast had a tangy and refreshing taste, I thought the Vitamin C was a bit overpowering. The specialty smoothie was still enjoyable with its prominent orange flavor. 
An immediate burst of spice hit my mouth after biting into the Buffalo Chicken wrap. The sweet tomato and crisp lettuce balanced out the hotness of the buffalo sauce. Personally, I thought there was too much tomato inside the wrap, but these ingredients, along with the melted cheese and soft flour tortilla delivered a delightfully fresh meal.
Overall, I was impressed by my experience at Smoothology. I will definitely visit again and order the exceptional PB Delish, but I will probably switch out the chicken wrap for another food item. 
I always favor an environment that instantly enhances my mood; the liveliness inside Smoothology brightened my spirit.
More places should strive to serve customers with unique eating experiences; Smoothology Cafe incorporates an authentic atmosphere and a diverse collection of menu items- which leave a memorable impression on customers.