Drumming off to greatness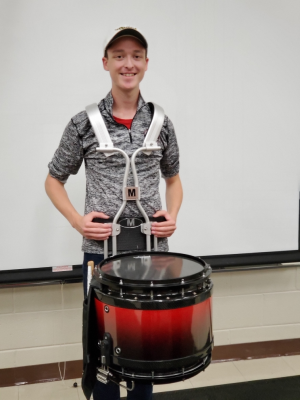 His hair blows in the wind on a rainy day in Chicago as he takes a deep breath in preparation for his first professional drumming gig. Performing at the Huntington Bank Pavilion on Northerly Island Sept. 8, 17-year-old senior Brendan Schoneberg will forever remember this day as the day he got to play for Kanye West's "Sunday Service."
Schoneberg has been playing since fifth grade, taking beginner's drum kit lessons. He developed a passion for playing percussion in middle school. Continuing on in high school, he plays for the HHS Marching Band. Within the past year, he started playing for the Crystal Lake Strikers, a marching percussion unit that plays for different gigs. 
Receiving the call the Friday before the "Sunday Service," the Strikers watched everything happen in the blink of an eye.
"We didn't get information on where it was, what to wear, and even the music until midday Saturday when our marching band was actually at a competition," Schoneberg said. 
Because of the limited amount of time, the Strikers could only rehearse once before the actual show. They had the chance to meet Kanye West's drumline from LA that had been touring with him as well as the director of the percussion group. 
Kanye's "Sunday Service" is a religious event that takes place in different cities on different weekends. They have been widely recognized by others, with celebrities and public alike attending them. The experience has been known to be very intimate between the crowd, Kanye, and anyone playing for him.
"[They] took the gates away [and] told us we were going to be the barrier between the crowd and the choir," Schoneberg said. "That's what made it especially intimate because there were people right next to [me]." 
The Strikers played for the last quarter of the set, drumming to songs such as "Lift Off." The opportunity to play professionally has prompted Schoneberg to look forward to other potential gigs. He wants to continue with drumming and percussion in the future and hopes to get a job in the musical industry.
"I want to have a career in music, whether it be performing, teaching, [whatever]. I'm going to figure that out later," Schoneberg said. 
About the staffer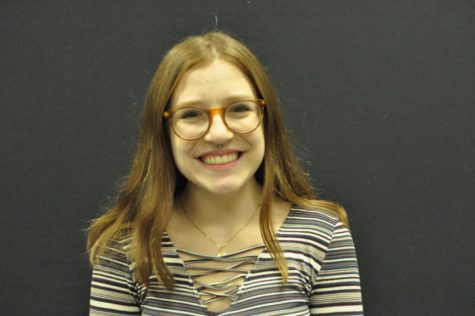 Olivia Mack, floating editor
Olivia Mack is a floating editor and photographer for The Voice and it's her second year on staff. Fun fact: she enjoys doing special effect makeup. In her free time, Olivia likes to paint and draw, watch the Derry Girls, and hang out with friends.