Red Raiders tennis goes Gator hunting
Oct. 7 was a cloudless, sunny day. On that warm afternoon, the girls varsity tennis team played its last home game to their fullest capabilities. The constant chatter of communication such as "outs" and scores of the matches filled the atmosphere to set the tone of their match. From the moment the girls stepped on their court, they were radiating with energy and confidence and it showed in their performances. The Raiders sealed the win with a 5-2 win against the Crystal Lake South Gators, which puts them at a 15-9 overall record and 5-3 in Fox Valley Conference play.
The girls on the doubles courts bustled with the sound of players communicating with their  partners. Unlike the singles courts, which were quieter. The silence revealed a more focused concentration. In between points, each group would grab some water and watch others play. As they watched, they cheered for their teammates. These cheers helped their teammates gain confidence during their matches.
All three singles players won for the Raiders. Sophomore Ruhi Gulati, who is ranked 49th in the state, swept her opponent in two sets. Her opponent was defeated in two straight 0-6 losses. Gulati, winning 6-0, finished first.
Freshman Elaina Hibbeler also won one of her sets, 6-0 and the other 6-1. The final singles player, sophomore Alessandra Rivera defeated her opponent back-to-back 6-1 wins.
"[We were focusing on] bringing the high intensity to this match because we have played them last year, and it's always a tight match with a lot of fighting," junior Michelle Barnvos stated.
Doubles partners Barnvos and her sophomore Kylie Phommasack secured another win for the Raiders. They too won in two sets, with two 6-1 wins. These two have constant communication, which allows them to gain points easily. These two are the number one doubles team for the Raiders, and they continue to dominate this season.
"Going forward we are going to focus on getting ready for the conference tournaments. We have made huge progress since the beginning of the year," said coach Barry Wells, "We've gotten so much better because the girls are such a young team and we are bringing back our entire team next year. We had a nice season finishing third in conference and tonight we won 5-2."
About the staffer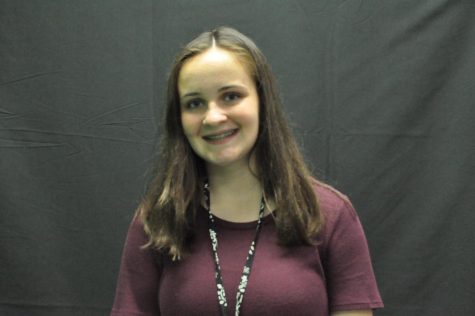 Riley Chadwick, staff writer
Riley Chadwick is a first-year staff writer for The Voice. She collect postcards from all around the world and currently have about 150 of them on her wall. Her passions are community service, soccer, and helping out the environment.