Huntley's Best Dressed: E-Girl Edition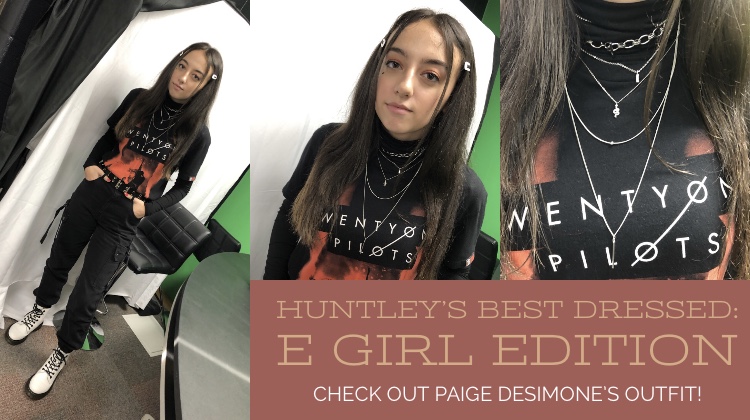 On Oct. 10 sophomore Paige Desimone wraps an edgy studded belt around her waist, clips back two pieces of hair with barrettes, and slips on her white Doc Martens. Desimone walks through the hallway, and despite dressing in the same theme as everyone else, stands out through her bold clothing choices. 
The week of Oct. 7-13 marks Huntley High Schools infamous Homecoming Week, filled with dress up days, a pep assembly, and killer decorations. Thursday marked the theme of Vsco Girl/Tik Tok/Meme day, leaving the halls filled with scrunchie wearing, hydro flask carrying, "and I oop" saying, teenagers. 
"Everyone was going as VSCO girls, I wanted to be something different. I had the stuff for both of the outfits, and I decided to just go all out." Desimone said. 
Desimone decided that she wanted to stand out when near the student body, and according to her she has a more "edgy" style therefore dressing as an E-girl was easier than a Vsco girl. E-girls, being famous for their black clothing and dark makeup, and Vsco girls, famous for their large tee shirts and bright clothes, both have formed from the Tik Tok application. 
An app with the original intent of entertainment has begun to shape the fashion style of this generation, including Desimone. Desimone derived inspiration from famous Tik Tok celebrities Jaden Hossler and Chase Hudson, two males who often are referred to as E-boys. 
Both of the boys sport styles inspired from the 80's, featuring darker clothes that look larger but reveal a fit and muscular physique. Desimone follows this trend, using layers to make her outfit pop but also using a belt to avoid washing out her figure. 
This look, despite being for a theme day, does fit Desimone's personal style. 
"I kind of already dress edgier than normal. I definitely don't like to dress like everyone else or wear basic clothes." Desimone Said.
Normal shopping online, at Tillys, and at Target Desimone likes to pack her closet full of clothes that not many other highschoolers wear. Despite being outside the "norm" her outfits prove to be instyle, edgy, and outright fashionable.
Let's take a look into where her outfit comes from. 
The White Doc Martens are from Famous Footwear

The Black Cargo/Jogger pants are sold at Forever 21

The black undershirt is featured at H&M

The TOP shirt is from their website twentyonepilots.com

The studded belt is sold at Walmart

The longer necklaces were sold at Charlotte Russe

The tight choker and Snake Necklace are from Brandy Mellivle
Desimone not only rocked the theme day, but rocked the entire outfit. By combining styles from different brands and stores she was able to achieve the perfect edgy look while maintaining a cute atmosphere.
About the staffer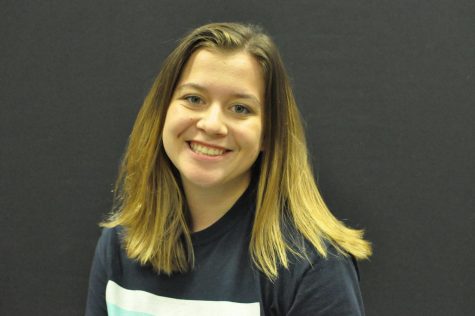 Ashley Reilly, editor-in-chief
Ashley Reilly is the co-editor-in-chief of The Voice and it's her second year on staff. She was a competitive tumbler for 10 years. In her free time Ashley like to coach tumbling, hang out with friends, and listen to music.