Cafe Corner: Manny's Handcrafted Gelato and Cafe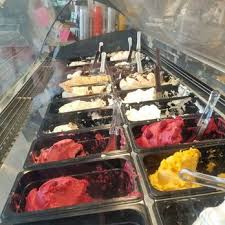 The crisp air blew on our faces as we walked up the steep wooden stairs to Manny's Handcrafted Gelato and Cafe. We were greeted with the overwhelming smell of sweet gelato and fresh brewed coffee. Friendly smiles and words of welcome greeted our ears as we walked into the cozy cafe nuzzled on the side of Main Street downtown Huntley. 
We decided to order the Grilled Cheese, a Strawberry Banana Bowl, and a Hot Chocolate. After selecting our meals from the extensive menu of yummy options, we seated ourselves at a table for two, right next to the store front window covered in window paintings of the season. 
Deciding to try the grilled cheese first, after taking our first bites we could taste every single different type of cheese that was included. Overall, the grilled cheese was very rich and delicious.
 Next, we tried the Strawberry Banana Bowl, its appearance was very neat and put together with each layer prepared neatly in the bowl. You could taste the tangy fruits and good mixture between the granola and  fruit toppings, which made it very enjoyable to eat. Finally, we tried the Hot Chocolate, the steam coming out of the cup smelled like Christmas. The balance of chocolate and milk in the popular fall drink put a smile on our faces. 
Popular songs from the radio played faintly in the background, mixing with the chatter of happy conversation and blenders in the kitchen. Our food and gelato was delicious and the fall decor and warm cranberry colored walls made for a comfortable atmosphere perfect for chatting and catching up conversations. 
Prices at manny's range from $5 to $8. Their smoothie bowls are all made from all different kinds of fruit, granola, coconut flakes, and chia seeds. Manny's also provides a cafe and breakfast menu that includes all kinds of coffee, muffins, bagels, and scones. 
The friendly service, scrumptious food, and home like feel make Manny's cafe a perfect spot to hangout with friends, go on a date, or even study. The little gelato place captured our taste buds and our hearts and we will be returning very, very soon.