Huntley's Homecoming success
Saturday, Oct. 12, was a night to remember for many Huntley High School students as Homecoming provides a warm welcome to the new school year.  While the dance is only one night, the build-up is a week full of many activities and a lot of excitement. 
The week started off strong with the dress-up themes including, pajama day, Hawaiian day, Huntley Hoedown, VSCO-girl day, and class colors. With many students and staff going all out with their costumes and props.
Homecoming traditions including the spirit barrel, penny wars, and many games at the pep assembly took place over the course of this week. These games led to the winning Sophomore class, rewarding them with the Homecoming spirit barrel prize.
The pep assembly was another important event which led to the hype of the dance, with many amazing performances from the JV and varsity dance team, freshman, JV, and varsity cheer team, guys poms, and Orchesis, filling up the east gym with cheers and chants.
After school on Friday, Oct. 11, students bundled up for the Homecoming football game, celebrating a win by a large margin against Hampshire. This was a perfect ending before the big night.
Decorations put up by Huntley's Student Council created a great scene for the dance as students walked in. This year, students entered the school with no problems. IDs and tickets were scanned with little of a line as the school's staff worked hard to get everybody into the gym as quickly as possible.
When students entered the east gym, they could feel the beat of the music in their chests as lights were shining all over the dark room. The music for the dance consisted of mainly remixes, presented by a very energetic and engaging DJ.
Students danced the night away, following up with many Instagram posts, pictures, and captions, all showing off their great nights.
Homecoming 2019 was a success, as many people had a great time at the dance and participating in the activities throughout the week. Many lower classmen look forward to next year's event, and the seniors were left with good memories of their high school Homecomings.
About the staffer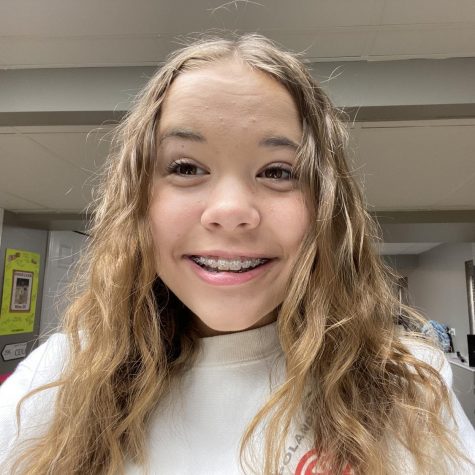 Delaney Cairns, Staff Writer
Delaney Cairns is a second-year staff writer for The Voice. She travels out of the country every summer to perform in international dance festivals. In her free time, Delaney is a dancer, runner, and enjoys hanging out with friends.