Learning about Spanish Heritage Month with Mrs. Cimino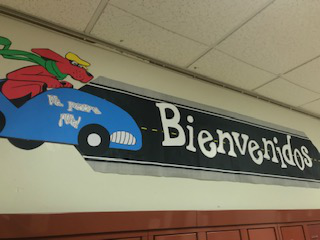 Maria Cimino is one of the Spanish teachers at Huntley High School. This is her second year at Huntley after making the transition from kindergartners to high-schoolers. Cimini teaches Spanish I and Spanish III. She explains Spanish Heritage Month and what she does to help students learn more about this celebration.
Spanish Heritage month begins Sept. 15 and ends Oct. 15. This holiday celebrates the history, culture, and the contributions made by Hispanic-Americans and their ancestors. 
"In the United States Spanish Heritage Month focuses on Mexico. One reason is that the majority of the Hispanic population here in the United States are from Mexico, it is not necessarily more relevant it is just how it is," Cimino said
Cimino tries to make her class more engaged and encourages more hands on activities for her students to understand the culture and the traditions behind heritage month.
"I just don't like to see kids just sit and just do notes and that's not fun, necessary, but just not that fun," Cimino said.
Three weeks ago she had a Hispanic dancer come in, who taught her Spanish III class different dances and rhythms within the culture.
 Another way she is enhancing the classroom experience is doing a tradition called la tomatina which is a tradition of first smashing tomatoes and then throwing tomatoes at one another. 
"I do not want kids to be bored, I want them to learn the language, experiment the language, taste the language," Cimino said.
Cimino believes it is important for other cultures to be celebrated as well.
"We have such a wide range of people not only from Hispanic countries but from other countries. Yes, I know we are celebrating Hispanic Heritage Month but it is like an invitation to celebrate other countries, and cultures," Cimino said.