Huntley girls basketball stays strong against Jacobs
As the last ten seconds went down on the clock, the crowd chanted "Three… two… one!" until finally the buzzer blared and the crowd cheered, another win in the bag. The girls ran to the locker room and celebrated a job well done. It was a win possible only through their teamwork and thrive over the season.
The girls basketball team played a strong game against Jacobs on Monday, Feb. 3. After their win against Cary last week, these girls really showed their skills on the court once again. Huntley took the first shot of the game, giving them a three point lead, setting the stage for their victory.
Within the first half of the game, there was some initial tension as the girls ended the first quarter at 13-4 points. They finished the first half at 25-8. Although they were in the lead, it didn't take much for them to try even harder and dominate the rest of the game.
After realizing they had to play a stronger defense, the girls continued to work together. They were finally able to finish with a 22 point lead, leaving a final score of 52-30.
"I feel like we really came out, especially with our offense. We did what we came to do. At first Coach got on us for not playing our best defense and then we went out and we stopped them" junior Raquel Radermacher said.
The team has been able to grow a lot this season by improving their weaknesses and learning from any mistakes. With some incredible players on a united team, the girls were able to come up with common goals for the group.
"I thought our girls gave a great effort. All 15 of our girls had the opportunity to play tonight and they all contributed and did a great job. You know we're playing some really good basketball right now and that's the goal as a group," coach Steve Raethz said.
With only four more games left in the conference, the team is preparing for their off season.
"We just know what we want and that's our end goal to win our regional and go as far as possible. We know what it takes and I feel like our practice has gotten a lot better. Everybody is just really putting in the effort," Radermacher said.
Looking forward, the girls are ready to give it their all to strive towards a successful rest of the season.
About the staffer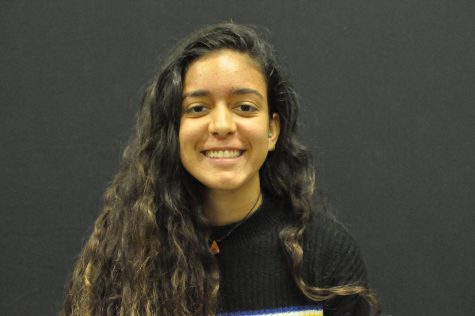 Veronica Castillo, staff writer/photographer
Veronica Castillo is first-year staff writer and photographer with The Voice. In her free time she likes to watch sci-fi films and eat way too many Jolly Ranchers.