Mr. HHS provides entertaining show and donations to charity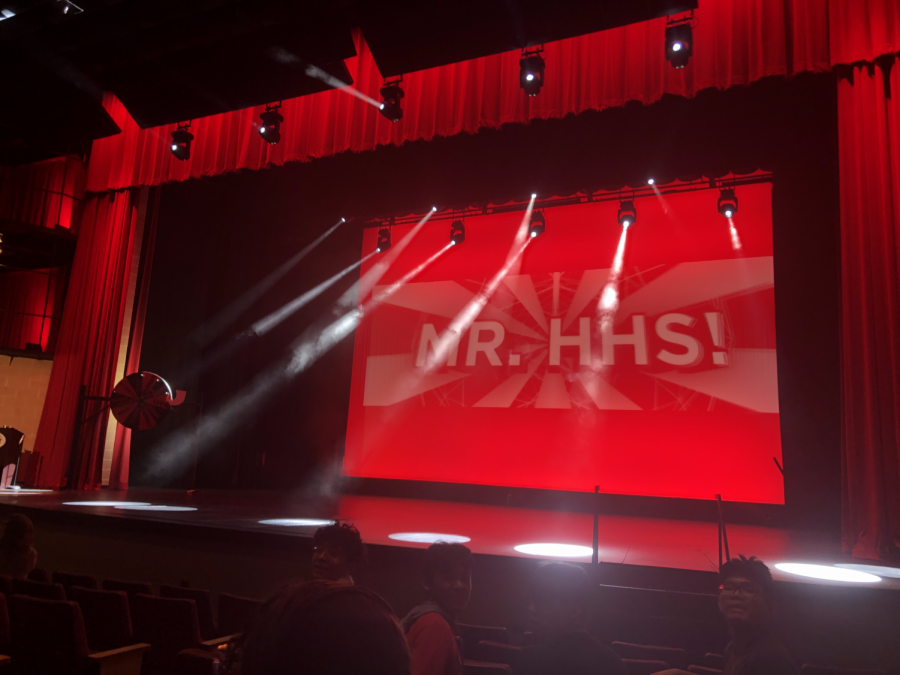 As the crowd settled into their seats, the lights began to dim. A projector from the back of the PAC sparked on as the 11th annual Mr. HHS Pageant introduction video started. Adorable baby photos of each of the contestants flashed across the screen, leaving the crowd reacting with "aws." 
This year Mr. HHS featured six senior contestants: Rafael De La Paz, Trevor Dowell, Jeremiah Rodriguez, Josh Zerkel, and Marc Catama. The judge's panel consisted of Principal Marcus Belin, Associate Principal Thomas Kempf, Associate Principal Shelly Kish, English teacher Laura Devlin, Associate Principal Danyce Letkewicz, Spanish teacher Amanda Robles, and chemistry teacher Allison Tuleo. The pageant was co-hosted by seniors Rachel Wegrzyn and Brendan Schoneberg. 
The competition started with a beachwear category. Each contestant strutted across the stage sporting everything tropical. From sunglasses to beach chairs, they had it. Trevor Dowell even had a bucket of water poured over his head. 
Each contestant spun a wheel and answered a question from a category. De La Paz, Rodriguez, and Dowell all answered their questions correctly, while Kellinger, Catama, and Zerkel answered incorrectly. 
Next, the contestants flooded the stage sporting their HHS spirit wear. Once they were across the stage, the co-hosts asked, "Why should you be crowned Mr. HHS 2020?"
"I believe I should be crowned because I represent lots of diverse groups around the high school. I symbolize a true HHS student around this school," De La Paz said. 
"I have helped build such an amazing fine arts program at HHS. Look outside – we are still expanding. It's crazy out there. Also, gay pride, everybody," Zerkel said. 
"Because I do contribute to the great diversity here at HHS, but I also am part of it. I am part of almost anything you can think of at Huntley High School," Catama said. 
"I feel like I'd be great being Mr. HHS because I'm very involved in school activities and try to watch every game I can. I also am friends with a lot of different people at this school,"  Rodriguez said.
"This school has helped me grow a lot and become more involved," Dowell said. 
"My disability. I want to be the face of those with physical, mental, and social disabilities and show them you can do anything you put your mind to," Kellinger said. 
In the second-to-last category, each contestant showcased their own talent. Zerkle, Rafael, Rodriquez, and Catama showed off their musical talents while Dowell juggled. Kellinger performed a comedic skit in which he interacted with a digital version of himself.
Finally, each contestant was lead across the stage by an escort: De La Paz by his girlfriend, Taylor Wentz; Dowell by his girlfriend, Katie Matustik; Zerkel by teacher Lauren Teeter; Kellinger by his mother, Cori Kellinger; and Catama by his friend, Mags Gordon. As each contestant approached the hosts, they pulled a question from a hat and answered the crowd. 
As the night began to draw to an end, Teen Miss McHenry County Megan Bargiel approached the stage and presented the awards to each contestant. The results were as follows: 
Trevor Dowell sold the most pins (This accomplishment was rewarded by all admissions being donated to his choice of charity, The American Brain Cancer Association.)

People's Choice Award went to Trevor Dowell

Question Master went to Blake Kellinger

Most Spirited went to Trevor Dowell

First Runner Up went to Trevor Dowell
All of the boys put on entertaining performances and kept the crowd engaged throughout the whole night, but only one could be Mr. HHS 2020.
The crowd held their breath as the air filled with anticipation as the hosts announced, "This year's Mr. HHS is Blake Kellinger!" Everyone lept out of their seats cheering as Kellinger was crowned. 
About the staffer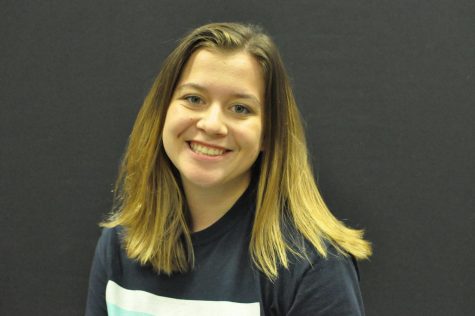 Ashley Reilly, editor-in-chief
Ashley Reilly is the co-editor-in-chief of The Voice and it's her second year on staff. She was a competitive tumbler for 10 years. In her free time Ashley like to coach tumbling, hang out with friends, and listen to music.