Girls basketball has a successful Senior Night against Prairie Ridge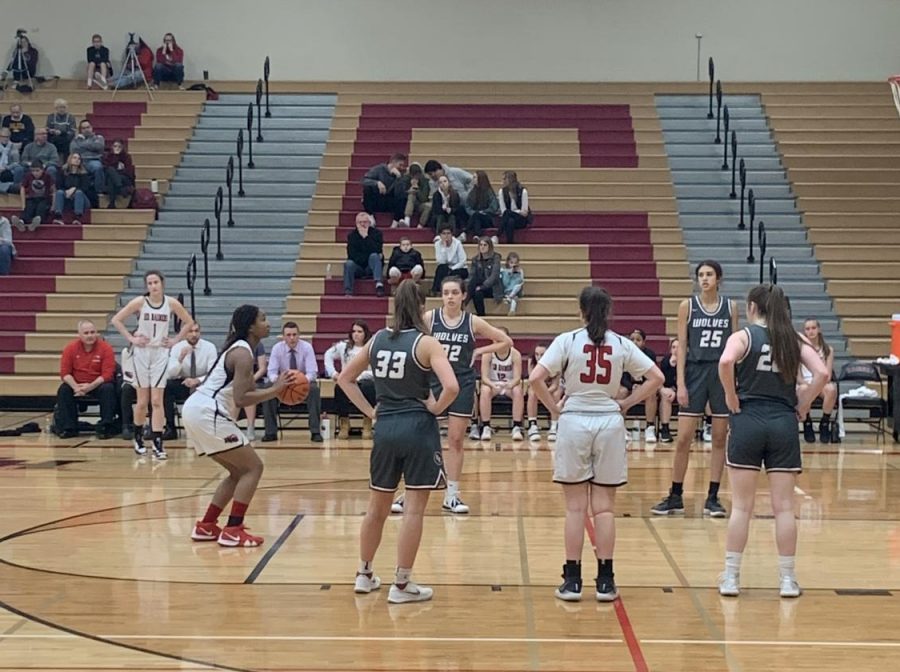 The room falls silent as junior Kamsi Nwogu steps up to the free-throw line. Although only the first quarter, the stands were filled with eager fans desperate for Huntley to get on the board. Nwogu receives the ball and without hesitation, bounce, bounce, swish! One down, one more to go. Again, bounce, bounce, swish! Just like that, the Huntley Red Raiders girls basketball team was tied with the Prairie Ridge Wolves.
The Raiders faced off against the Wolves on Saturday, Feb. 8. Fresh off their win against Crystal Lake Central this past week, the girls were ready to put up another fight. With it also being Senior Night, the team was ready to give it their all. 
The game started off with a rough first half. Prairie Ridge was first to make it on the board, and soon after, Huntley was able to join them. However, at the end of the first quarter, Huntley was down 7-4. Huntley trailed for most of the half until junior Ashley Guazzo hit a three-pointer that got the team ahead. At the end of the second quarter though, Prairie Ridge was ahead 18-15.
But then, after halftime, the girls were ready to get the win. 
"I think we had a rough start in the first half. We weren't really playing our game, but then our coaches challenged us in the locker room during halftime and we stepped it up, played our game, and pulled out the win," Nwogu said. 
The Raiders were able to end the third quarter winning with a score of 25-22. 
"Taking a lead at the beginning of the third, we set a tone on that quarter, and then for the second half," assistant coach Clayton Henricksen said. 
Thankfully, the girls were able to power through and secure the Senior Night win with the final score of 38-31, Huntley. 
"I'm proud of the way they came out in the second half. It wasn't the greatest first half, but we made the adjustments we needed to get the win," Henricksen said. 
At the end of a successful game, the win was especially important for the graduating players. 
"We always play hard, and they played hard to get that win, and to do that on Senior Night was something special for our girls and our program," Henricksen said.
The Raiders will now prepare for their next game against the Hampshire Whip-Purs on Wednesday, Feb. 12. 
"They've got a couple of really good girls who can really score and handle it; they're efficient offensively. They run a whole other defense than Prairie Ridge, so we'll just need to scout and make sure we're matched up to know what Hampshire likes to do," Henricksen said. 
About the staffer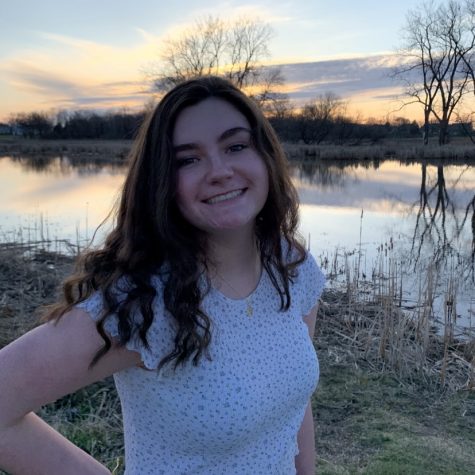 Maggie Kirwin, Floating Editor
Maggie Kirwin is one of the social media editors and is a returning member. Fun fact, over the summer she read nine books. In her free time, she loves watching movies and playing lacrosse. Some of her favorite movies include "Little Women (2019)," "La La Land," and "Meet the Robinsons."