The "Huntley Fire District" app helps improve safety in Huntley community
Helping the community. A deed in which every individual wants to contribute to. No effort is too small or large and every selfless act is significant to the common good. Recently, the actions of a few students at Huntley are a prime example of this and their contribution is beyond commendable. 
Students Paxton Luangnikone, Joshua Hontanosas, Victoria Smolen, and Tyler Wright have been working alongside the Huntley Fire Department to create a new assistance app to aid the elderly and citizens alike in the Huntely community. 
According to Lieutenant Eric Bentley, Director of Life Safety at the Huntley Fire Department, the project has been going on for about a year and focuses on giving a plethora of resources to the senior citizens in Huntley. 
From fire safety tips to an organized fall risk assessment section, the app covers multiple topics that can make the difference in any exigent situations. 
Computer Science teacher Michelle Zietlow has helped guide the students working on the project throughout the whole process and played a key role in getting the app completed. 
"The project actually started at the end of last year. Paxton has been in the class both years, so he has been on the project the entire time," Zietlow said. "This class [Advanced Computer Science Topics] is designed for students to use the knowledge they have obtained to create something they are interested in while using all of the skills they have learned."
This app is not the first project Zietlow's students have tackled. A few years ago, one of her students decided to create an app that would show teachers' schedules and classroom locations to help students find their teachers outside of class. 
Out of the four students working on the app, senior Paxton Luangnikone has worked on the app the longest and his dedication to creating the app made the success of the project possible. 
"I thought it would be a good use of my skills in computer science towards something more useful and productive," Luangnikone said. 
Luangnikone has experience in different types of coding as his previous Advanced Computer Science Topics project was developing a video game through a software called Unity. According to Luangnikone, transitioning his efforts to better the local community was a great opportunity. 
The app is fully completed and available to users through the Google Play Store. However, the process to get the app available on the app store on Apple products is still in the works and will hopefully be finished soon. 
About the staffer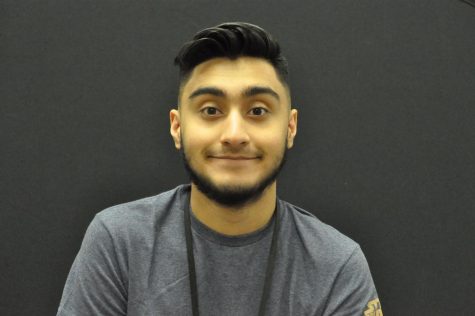 Ayman Mirkhan, managing editor
Ayman Mirkhan is the co-managing editor of The Voice and is going on his second year on staff. Ayman is an immigrant from the U.K. and has lived in the U.S. for 10 years. In his free time, Ayman likes to cook, play tennis, and read psycho-thriller novels.