Huntley wrestling team competes in Fox Valley Conference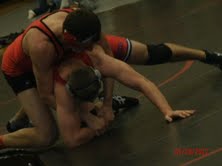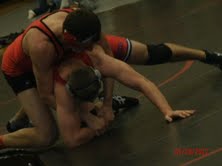 Energy was running high as the Fox Valley Conference Wrestling Tournament went into the finals. Seven of Huntley's wrestlers would be competing for either first, third, or fifth place. Going into the tournament, the team's goal was to finish in the top five.
The team's goal was to place in the top five in the conference, both Fox and Valley Divisions. Huntley was one out of 14 teams in total.
At 106 pounds, junior Zach Stenger won third place. At 113 pounds, freshman Ricky Vigil also finished in third place. At 120 pounds, senior Jacob O'Neal placed fourth. At 126 pounds, Brandon Meyer won fifth place. Junior Brandon Mabry won fourth place at 170 pounds.
Huntley's biggest win for the day came from senior Josh Symbal. At 180 pounds, Symbal beat a Dundee-Crown wrestler winning first place for Huntley.
Symbal was Huntley's only first place finisher.
At the end of the tournament, Huntley placed fifth with 153 points. In fourth place was Cary-Grove with 169. McHenry finished third with 195.5. Crystal Lake South placed second with 217.5 and Crystal Lake Central won it all for the fifth time in a row.
"I think we did well today," said head coach B.J. Bertelsman. "Fifth place is the highest we have ever gotten."
In the regular season, Huntley was over .500 in dual meets along with many conference and non-conference opponents.
Huntley has also competed in tournaments at Barrington, Wauconda, Harvard, Deerfield, and Belvidere.
"Our tournament ran really well," said Bertelsman. "Parents and students helped a lot by volunteering."
Next on the schedule for the Red Raiders Wrestling team is regionals at Jacobs High School on Saturday, Feb. 4. Their goal is to advance six or more wrestlers to sectionals.
By continuing on this solid path, the Raiders look to have a promising future remaining one of the top five teams in the Fox Valley Conference.
Check out a fan video of the Huntley wrestling team competing in the Fox Valley Conference