Huntley dives back into swimming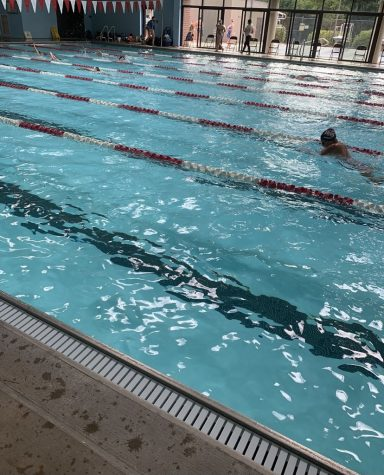 Last year, the Huntley High School girls swim team had an outstanding year, breaking six of nine previous records, and qualifying for state in three of those six events. However, this year they have less opportunities to make new records; 11 of the season's meets have already been cancelled.
Due to the enclosed space of the meet, certain precautions apply to swimming that other sports may not have.
"It's a lot harder because of us being required to wear masks, so obviously with swimming, it's difficult because you're breathing- and it interferes with your breathing when you're trying to recover after races. Putting a mask on can be kind of limiting," junior Caitlyn Gooden said.
While sports such as soccer or football may simply have limited seating for spectators, swimming only gets 50 people per meet. This includes both teams' swimmers, coaches, and officials, leaving no room for the parents and families.
"It feels weird, because normally my family comes to all my meets, and they're very supportive, but not seeing them there is weird," varsity swimmer Jillian Cherwin said.
Despite these restrictions, the Huntley Girls Swim Team is going strong, winning last night's meet, 88-40.
"It felt good; it always feels good to win," Abigail DeVries said. "I think we have a pretty good chance of winning all of the other meets that we have coming up."
DeVries, a junior on varsity, had the largest improvement, losing 4.09 seconds off of her 200 meter freestyle. Although quarantine closing pools made practicing more difficult, many of the other girls also lost time in various events, practicing outside the team during quarantine.
"During quarantine, there wasn't a team yet, so I just practiced individually as much as I could," sophomore Ashley Garrard said.
The team's dedication has them currently running with an undefeated season, even while being 8 meets in.