Sophomore Maddie Donovan skates through COVID-19
As soon as you enter the ice rink at Leaf's Ice Centre, you can feel the cool 60-degree air, and the closer you get to the ice, the colder it gets. You can hear the ice skates gliding on the ice and the quiet chatter of nearby skaters. This is one of sophomore Maddie Donovan's favorite feelings. Every week, for five to seven hours, she spends her time training and learning new skills in the rink. This is what sets Donovan apart from other kids, being one of the few ice skaters at Huntley High School. 
Donovan has been skating since the age of two and has loved it ever since. She started skating because her dad was a college hockey player.
"I guess you could say he inspired me to start skating," Donovan said. 
She did a couple of competitions before COVID-19, but since then, she has not been able to do them any more. What she enjoys the most though is the performances. 
"I did nothing on the national level, but I did a couple [competitions] around town," Donovan said.  
Every couple of months, Leafs Ice Centre does a performance showcasing its amazing ice dancers and all of the new skills that they learned. Normally, they would be able to invite whomever they want to the showcase and everyone can watch them perform. They also could hang out with whoever they want in between skaters. However, this Halloween was drastically different. 
This year, many things have changed. Instead of anyone coming to the performances, only a small group of family members could come and watch, meaning that Donovan could only perform for her parents. She also could not hang out with everyone backstage, since she was with a select group of dancers and they had to maintain proper social distancing. 
With restrictions placed because of COVID-19, there were many changes, but that did not stop Donovan from putting on a spectacular performance. While warming up to one of her favorite songs, "Dangerous Woman" by Ariana Grande, she knew that she could be amazing despite there not being a big crowd. It may not have been ideal, but she still gave it her all and made the best of it. 
Donovan loves ice skating and it has changed her life for the better. She has made many new friends, gained many new skills, and is constantly improving on her craft. 
"It would be amazing to go to the Olympics and compete; however, right now I'm focusing on school and getting through these crazy times!" Donovan said.
About the staffer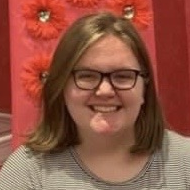 Megan Curry, Staff Writer
Megan Curry is a sophomore and in her first year as a staff writer on The Voice. Megan is the only kid in the whole school who is in the organization, Job's Daughters. In her free time, Megan enjoys binging shows and movies, such as Avatar the Last Airbender and Harry Potter.